Digital Leadership Bootcamp
Spark a mind-set shift in your most influential people and get your team up to speed overnight.
"Retailers are going on the offence, using technology to entice customers to shop both online and in store. Technology will be key to assisting retailers with creating new, meaningful ways for consumers to interact with their brand."
Michelle Evans, Euromonitor International
Lead your business through a digital world.
'This course is an indispensable primer on the mindset and ways of operating required to be genuinely customer-centric and drive both online sales and business results'
Today more than ever before, technology and digital tools are changing customer expectations of businesses, reshaping their experiences and even their expectations of physical shops, stores and outlets. The COVID-19  outbreak has changed not only our every-day life but also the way of doing business. But with this change comes opportunity for those business leaders ready to embrace new ways of thinking and acting in a digital world.
Welcome to Digital Leadership Bootcamps delivered by AVADO
As part of the SMART Guernsey Economic Development programme powered by Agilisys Guernsey, we are pleased to be able to offer a number of fully funded places to individuals in Guernsey to build their skills in leading digital change in their businesses across all sectors.
The next course will take place across two morning sessions on the
20th & 21st October 2020
One of the best training/workshops I ever attended. Truly inspiring, eye-opening & insightful.
Bootcamp attendee
What is it?
Transform the digital capability of your senior team overnight with a 2 half-day virtual, intensive Bootcamp led by experience practitioners.
They'll leave inspired and energised with a fresh perspective on what digital leadership means for today's businesses.
Who should attend?
Digital is for your entire business, it's not just about IT teams or marketing.
Nominate your senior leadership team (across all business sectors)
This means current and future managers and leaders, change agents, programme managers or senior management.
What are the outcomes?
As a result of the Bootcamp, leaders will be better equipped to:
Personally role-model the mindset and behaviours needed for a customer-centric, agile organisation
Take steps to influence the working culture and practices
Confidently engage their teams around the context and imperative for operating differently due to the evolving technology and consumer landscape
Who are Avado Learning?
Avado is a professional academy that helps people and businesses through interactive learning experiences in data, finance, marketing, people and technology. Avado builds capabilities and supports real change by offering new skills and mindsets through quality apprenticeships, qualifications, workshop and modules.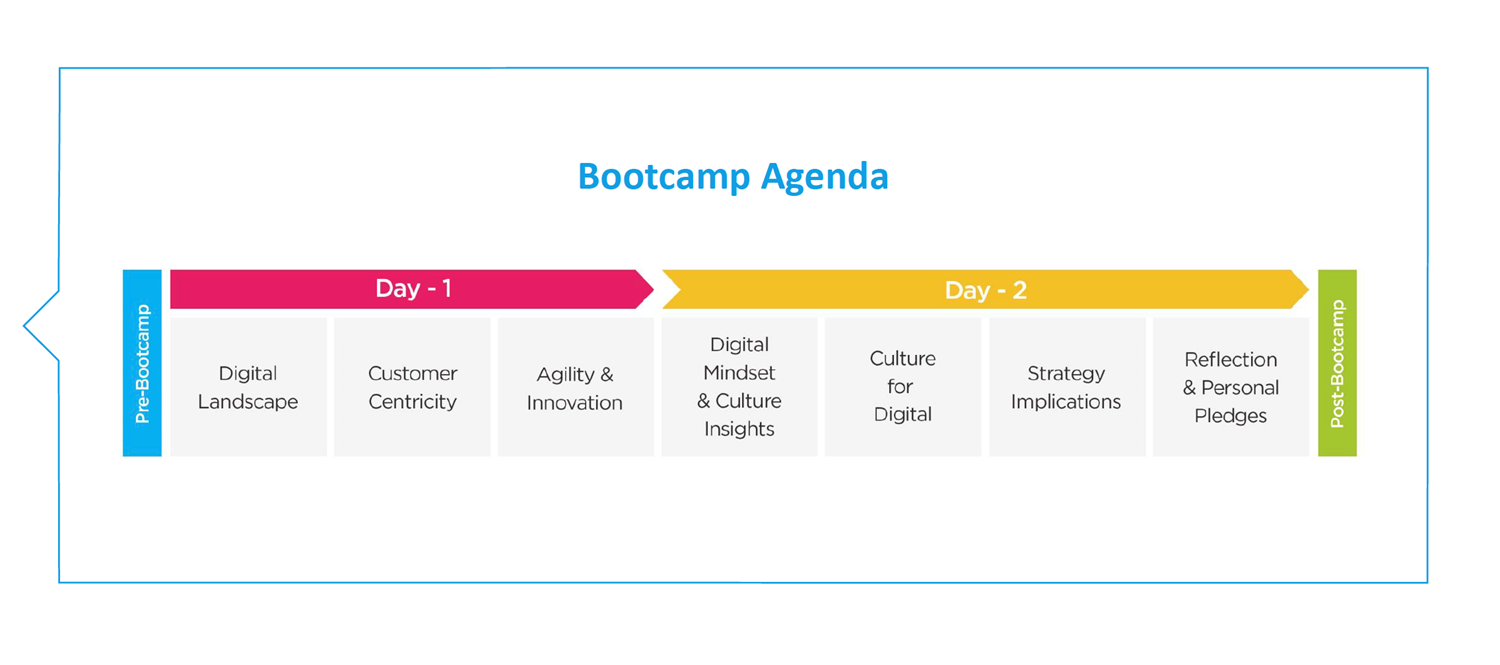 To create real change in your organisation, you need to change people's skills, confidence and mindset. That's where we come in. We're trusted by over 800+ organisations around the world to develop their leaders, teams and individuals to become data literate, drive digital change and accelerate their marketing capabilities.  All with one goal in mind: to help your organisation get ahead!
Transform your business with Avado Learning
How to apply
There are a limited number of fully funded places available on the Bootcamp (20th-21st October 2020).  In order to apply for a place on the Bootcamp, please complete the form below.  Please note that spaces are limited to no more than two attendees per business.
Deadline for application is Friday 16th October
Please note due to the on going COVID-19 situation, the delivery of this course will be virtual sessions