At March's Innovation Lab we welcome Carl Appleton, Senior Consultant at Prosperity 24/7, who will focus on practical advice for implementing digital and cultural change, drawing on his experience leading large change management programmes. 
This session is suitable for everyone with an interest in areas of change but is designed to help business leaders to:
Develop a solid, efficient and effective operating platform to secure their core business

Get better at what they do, working smarter not harder

Improve teamwork and cross functional working

Create an environment where people feel it is safe to speak up and challenge

Helping everyone in their understand how they can contribute to its success
Speaker Profile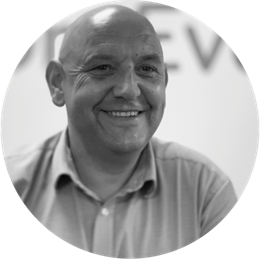 Carl is an outgoing confident change professional that prides himself on his pragmatic approach. Having spent 10 years in the Royal Navy and 14 years as a fire fighter he has embraced some of the skills learnt and transferred them into delivering successful change programmes alongside bespoke training courses at Prosperity 24/7.
Carl's primary focus over the last three years has been leading the Change Management Programme for the Ports of Jersey, where he has been responsible for developing process improvement where saving approx 2m wasted minutes and £1m. 
Carl has a passion for working with teams, breaking down silos and implementing a positive culture change. Facilitating Rapid Improvement events are also a speciality of Carl, where he gathers stakeholders, identifies waste and then implements the change rapidly to enable measurement against success criteria, one of the most effective process improvement tools.
Innovation Lab 2020 series:
Growing a culture of continuous improvement
Returning for 2020, Guernsey's monthly Innovation Lab aims to help you gain greater knowledge and understanding of innovative working practices. This years programme will once again showcase some of the best in innovation from across the island and include hands on introductions to a range of subjects, such as project management, business analysis, change and transformation. Build and develop new skill sets for the changing business world and, through partnership with the GTA, take it further by signing up for one of the professional qualification routes too.
Join us for the last Friday of the month for an engaging range of presentations and workshops, building a network of like-minded people to discuss ideas and encouraging collaboration across business, government and the community. Subscribe to the Innovation Network e-newsletter for monthly updates on our activities, events and more.