Digital and Agile Leadership Bootcamp
Virtual course for current and future leaders
'This bootcamp focuses on equipping leaders with the essential skills and mindsets for the digital age. It brings to life how managers and future leaders can not only understand how to make smart decisions around the application of technology, but also how to innovate rapidly and support a customer-focused culture of collaboration'
Neil Perkin - Course Leader
This is an inspiring, informative, and interactive workshop designed to open minds, challenge thinking, and bring to life key principles that sit at the heart of how to lead teams and organisations in the digital era. The workshop will look at how to apply key principles and practices that sit at the centre of agile and digital-native ways of working, how to design customer-centric digital products and services and create an environment that enables fast learning at scale.
The session will also focus on bringing to life the key mindset shifts and leadership behaviours that can create a culture of continuous improvement. 
Welcome to Digital and Agile Leadership Bootcamps delivered by AVADO
As part of the SMART Guernsey Economic Development programme powered by Agilisys Guernsey, we are pleased to be able to offer a number of fully-funded places to individuals in Guernsey to build their skills in leading digital change in their businesses across all sectors.
The next course will take place (virtually) across two-morning sessions on the
28th & 29th September 2022
I've learn to look at things in a different way - how
can we work easier / smarter, innovate. Looking at
creating an App to link all charity resources so the
Guernsey community can share them rather than
every charity having to have their own.
Jason Fitton - Director Bright Futures Day Nursery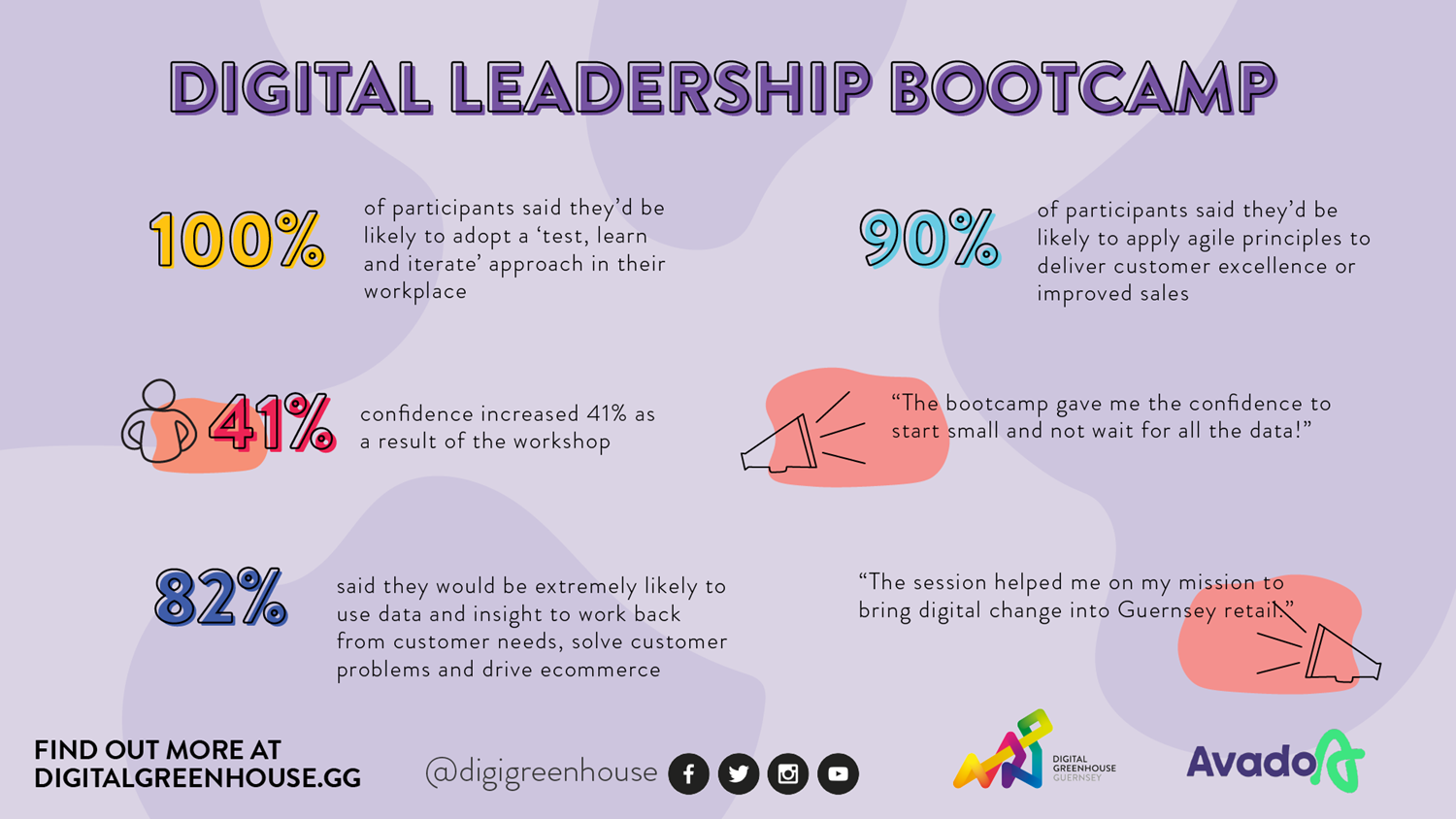 What is it?
Transform the digital capability of your teams overnight with a 2 half-day virtual, intensive Bootcamp led by experienced practitioners.
They'll leave inspired and energised with a fresh perspective on what digital leadership means for today's businesses.
Who should attend?
This special Digital Bootcamp is focused on "Digital and Agile Leadership."  Digital is for your entire business, it's not just about IT teams or marketing and we are looking to support and grow those coming up into senior leadership.
Nominate your organisation's managers and leaders, change agents, programme managers or senior management. (across all business sectors)
What are the outcomes?
As a result of the Bootcamp, attendees will be better equipped to:
Personally role-model the mindset and behaviours needed for a customer-centric, agile organisation
Take steps to influence the working culture and practices
Confidently engage their teams around the context and imperative for operating differently due to the evolving technology and consumer landscape
Who are Avado Learning?
Avado is a professional academy that helps people and businesses through interactive learning experiences in data, finance, marketing, people and technology. Avado builds capabilities and supports real change by offering new skills and mindsets through quality apprenticeships, qualifications, workshop and modules.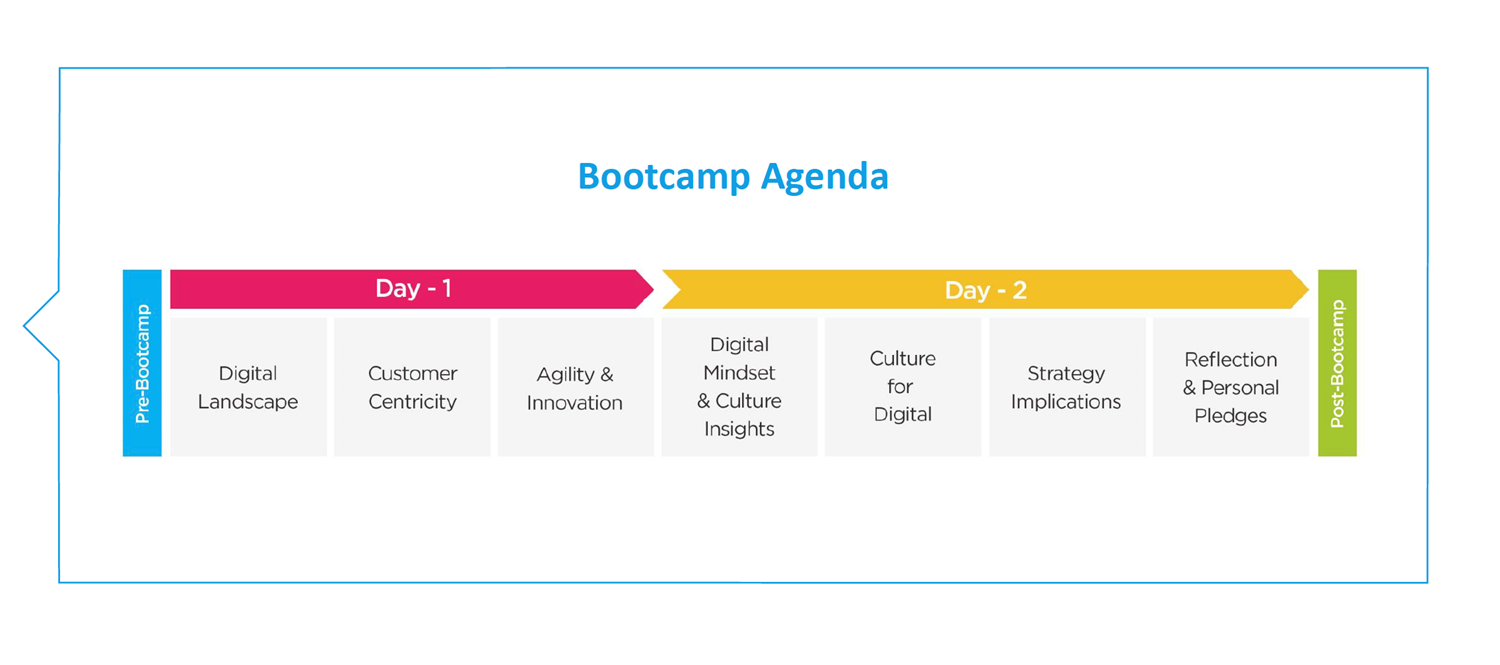 View the Digital and Agile Leadership Bootcamp presentation
Find out more
To create real change in your organisation, you need to change people's skills, confidence and mindset. That's where we come in. We're trusted by over 800+ organisations around the world to develop their leaders, teams and individuals to become data literate, drive digital change and accelerate their marketing capabilities.  All with one goal in mind: to help your organisation get ahead!
Transform your business with Avado Learning
How to apply
There are a limited number of fully-funded places available on the Bootcamp (28th & 29th September 2022).  In order to apply for a place on the Bootcamp, please complete the form below.  Please note that spaces are allocated individually - should you wish to sign up as a group/team please contact info@digitalgreenhouse.gg and we can ensure that we have the spaces to meet your requirements.
The deadline for applications is Tuesday 27th September 2022
Please note, the delivery of this course will be virtual sessions