Hive Learning Network
Join Guernsey's online learning platform
It has never been more important to develop your skills - and the skillset that matters has never been in such a constant state of change. As we emerge from the pandemic and look to the future, we need to be more agile, more innovative; and develop leadership skills whether we're leading projects or people.  We're also all incredibly busy - so we need an approach to learning that can keep up with us.
Learning needs to become a weekly, even daily, habit. It needs to be bitesize enough that you can learn something while drinking your morning coffee, and actionable enough that you can make a small change straight away in your next meeting, project, or presentation.  The Learning Network, developed as part of the SMART Guernsey Economic Development Programme and powered by Hive Learning, features both Quick Reads - pieces of content that take just minutes to digest and put into action - and more immersive learning Pathways - a more structured 15-20 minute course around a specific topic - on a wide range of themes ranging from personal development to innovation and leadership.  Giving people across the Bailiwick practical tools to grow their businesses, and to swap ideas and insights and troubleshoot challenges with their peers — so we can all make progress faster.  
Scroll down to find out more about the free courses available now.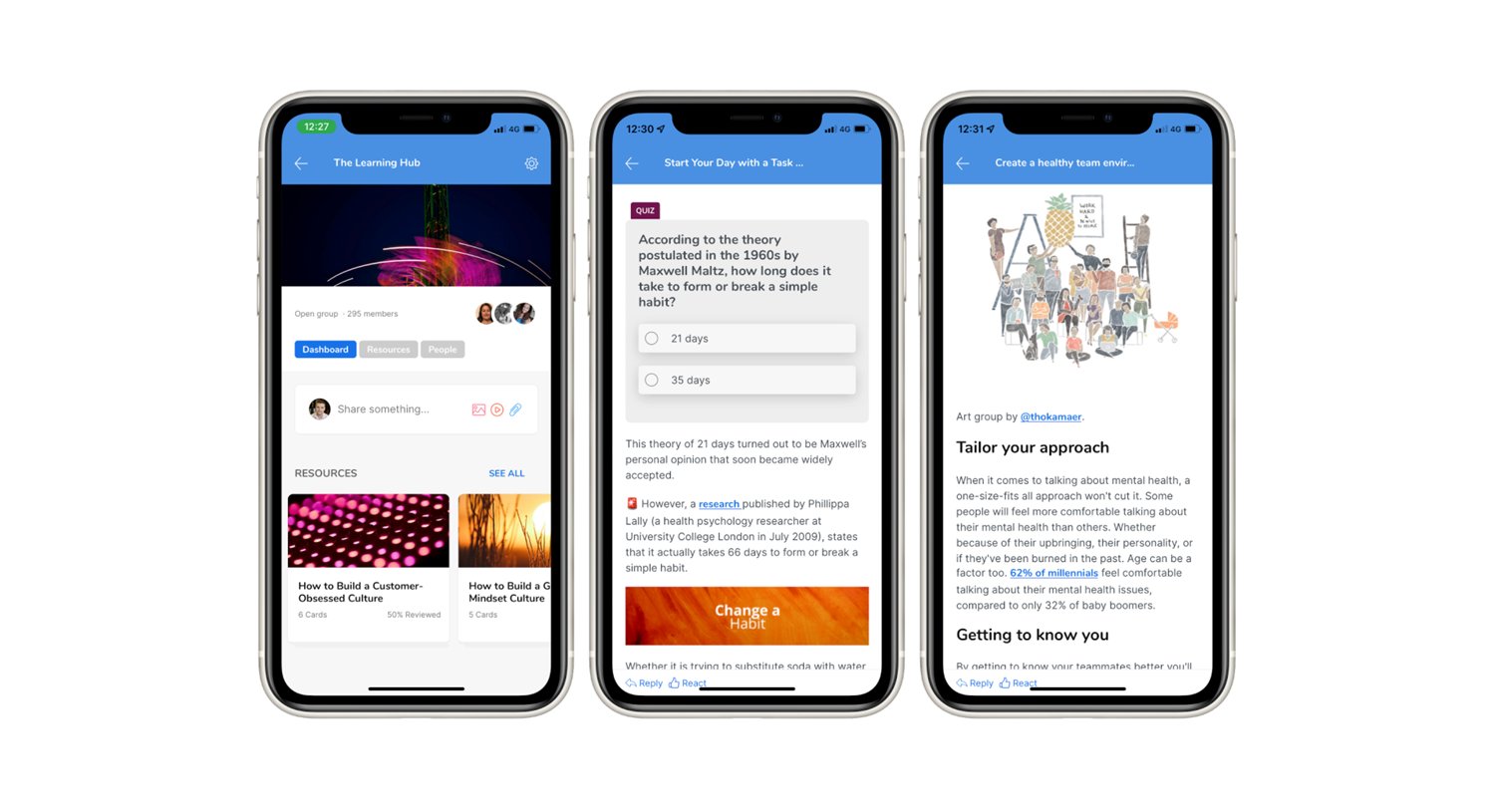 Who are Hive Learning?
Hive Learning is the world's leading peer learning platform - helping people tap into the power of collaborating with their peers in order to embed learnings and put them into action.  They support some of the world's fastest-growing and most forward thinking organisations - including Legal and General, Sunlife Financial, and Wharton Business School - to drive change at scale.
The peer learning platform founded by Rugby World Cup-winning coach, Sir Clive Woodward, and the UK's leading digital venture builder, Blenheim Chalcot.
What is the Learning Network?
The Learning Network is the Bailiwick's own Hive platform with the mission to support upskilling across the community - whether you're an experienced leader, someone entering the workplace, or an entrepreneur.
The platform specialises in developing business-critical skills like leadership, team management, inclusion and coaching strategies.
This is done using practical resources, videos, podcasts and more. These resources are available in accessible bitesize formats to give you actionable tips that you can apply right away to drive real results (and use the social features to share your learnings back into the group!)
The Hive Learning Network is designed to bring together practical content and engaging conversation in one digital space. It's available on any device as an App for download from the Apple and Google Play stores, as well as a desktop version.
How can I join the Hive Learning Network?
Open to all Guernsey residents, from small start-ups to global businesses, individuals can use the platform to connect with the rich and diverse expertise of the Bailiwick's innovation ecosystem — allowing you to build your network and connect with fellow innovators digitally, plus opportunities to search for peers by expertise and skill set.
Signing up to the Hive Learning Network is simple.  When you join you'll receive personalised recommendations on relevant resources and get useful nudges and notifications straight to your email to ensure you never miss any important news.
Any individual in the Bailiwick of Guernsey can register for the Hive Learning Network through the link below.
Explore the courses
This community is what you make of it. There's plenty of useful content available for you to dig your teeth into; whether you're a leader looking to learn best practice when it comes to coaching, an individual who wants to improve your skills in areas such as creativity and collaboration, or you're looking for tips on how you can improve your wellbeing, there is something for you!
To help you navigate this space, we have created a Glossary of content for you, which contains links to take you straight to the pathways. 
ONLINE LEARNING PLATFORM