Squared Online Digital Marketing Programme
5-month online digital marketing course

What is Squared Online?
Squared Online is the digital marketing course developed with Google and powered by AVADO. Taught over five months by industry experts, it's the only digital marketing course that also develops your future leadership skills so that you can become a change agent in your organisation.
Technology and organisations are constantly changing, presenting both challenges and opportunities. Squared Online gives you the tools to handle the changes! In this hands-on learning environment, you'll collaborate virtually with your peers, putting your leadership and marketing skills into practice.
At the end of your journey with Squared Online, you'll be equipped with a tangible action plan to optimise your marketing strategies and the tools to become a change-maker in your organisation. Find out more
View the introduction to Squared Online webinar here.
This digital marketing programme equips you to:
Propose new ideas that help marketers respond to digital disruption
Suggest innovative, customer-centric ways to engage with audiences
Integrate technology into your marketing strategies to reach your customers at the right time
Use data to inform decisions that grow your business, having adopted a "single customer view" mindset
Recommend strategies that enable your organisation to leverage the latest emerging technologies
What will you learn?
Digital Marketing Skills
Along with leadership development, Squared Online equips you with current and forward-thinking digital marketing concepts. Your journey kickstarts with an overview of the current digital landscape. You'll explore how digital disruption has revolutionised marketing practices. In a world of digital disruption, you'll learn about the importance of keeping customers at the heart of everything you do.
First, you have to build the right message! By looking at customer journeys, you'll map the moments that matter most and identify customer needs along the way. This will help you build customer-centric messages that reflect your unique brand values.
After you have the right messages, next you'll look at the best ways to deliver those messages at the right time across multiple channels, meeting the customer where they are in their journey. You'll look at industry best practice, for example making sure your messages are accessible on mobile devices and search and display. You'll also dive into programmatic technology to integrate these channels, ultimately creating a seamless customer experience across all platforms.
As you start engaging with your customers, you'll learn how to access customer data and use it to build tailored and coordinated experiences. You'll develop a measurement plan, incorporating data analytics and attribution models, to help optimise future decisions.
Leadership Development
At the start of the course, you'll learn about four key digital leadership attributes that will develop throughout your Squared journey. These four attributes give you the mindset and behaviours that will enable you to drive change in your organisation.
How will your leadership skills be developed?
Identify challenges faced by leaders looking to drive marketing transformation in their organisations, and bring together digital marketing strategy and leadership behaviours to analyse how to solve these challenges

Address key leadership challenges through group projects

Respond to leadership case studies in weekly learning activities

Reflect on how you might demonstrate the leadership attributes to tackle challenges in your own context, at the end of each module
With these in view, you will have leadership skills to drive marketing transformation in your organisation, regardless of your position or level.
Find out more information in the
Squared Online Course Guide
Course Guide
Squared Online Alumni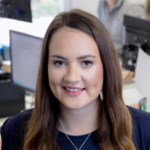 Megan Thoume
Orchard PR
2021 Graduate
As someone who is ambitious and keen to progress in my career, Squared Online's focus on developing crucial digital leadership skills was really important to me. The course covers how marketing professionals can affect real change across their organisation and lead in driving digital transformation. I'd highly recommend anyone looking to learn more about digital marketing to apply for Squared Online. It's an in-depth course with lots to learn – but as well as gaining knowledge, it will also give you the confidence and skills to drive change.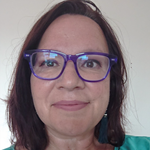 Catherine Allaway
Ray of Sun
2020 Graduate
I thoroughly enjoyed my experience with Squared Online. I took 'customer centricity' as the key take-away, and this just reinforces the importance of listening to your client and understanding the brief fully. I have also gained in confidence with leadership and assertiveness.
I learned how to manage teams better, to assert myself, the rudiments of UX design and a greater understanding of the processes involved in digital projects. I also learned that experience does come in handy when managing teams. It's not until you're tested that you see you have the skills!
I really enjoyed working with other members in producing the presentations together. I felt I was able to contribute a lot. I would recommend this course because it pushes you out of your comfort zone and gets you doing things you would have never imagined doing.
Since I graduated I have been working on UX design as this is something I really enjoyed (will take about 6 months to go achieve) plus I have also added Adobe After Effects to my skills set. Since last June 2021 I have taken further courses in leadership and team management, with Kay Stephan. I would like to explore this further. Last December I qualified in a TEFL.org Business English course (not forgetting signed up to a full-on TEFL course, qualifying in June 2022) to give me an extra income stream. I am building a website at the moment, and will hit the ground running in July as a designer (graphics/illustration/UX) and teaching Business English online. I am living in France now.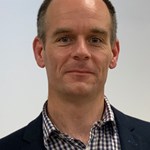 Trevor Nicholls
Easeedo
2020 Graduate
I thoroughly enjoyed the course. My main objective in starting the programme was to gain high-level knowledge of digital marketing principles. I achieved this goal and much more. I don't intend to be doing the bulk of the marketing for my start-up, but being a small company, I will need to make strategic decisions around this. I've not yet had much opportunity to put these new skills into practice; that journey is just around the corner, and I'm looking forward to it immensely.
As well as the technical aspects and using the digital tools available, one of the key learning points for me was thinking from a customer-first perspective. Picking out a favourite part is difficult as there are so many great ones. However, as I do a lot of development and database work, learning some of the more detailed aspects of Google Analytics is a strong contender for the top spot.
If you have no or limited marketing knowledge, then this course is a great way to gain a working skillset (as I did) or kick start future career opportunities!
The roadmap for my start-up has suffered some diversions due to COVID and other factors. However, we are back up and running now, and I am looking forward to putting the skills and knowledge from this course into practice very soon.
How does Squared Online Work?
Squared Online is made up of five modules and takes a total of five months to complete. We suggest you set aside 4–6 hours a week, which will give you time to complete:
Campus activities
Individual assessments
Group projects and feedback
Live Classes with experts
Reflection activity
There are no exams or essays in Squared Online. Instead you'll be continually assessed via project work, self-reflection, group feedback and completion of activities. To graduate from the Squared Online course, you'll need to:
Complete 90% of all activities in each module and the Get Started Area
Fully participate with your team to complete all group-based projects
Gain a pass mark for group projects and individual assessments by the deadlines
Submit group feedback and personal reflection
You'll learn and connect via the Virtual Campus, this is the central hub of Squared Online and your home base throughout your time on the course. It provides a one-stop-shop for all the Live Classes, lessons, tools and resources – with 24/7 access so you can study at a time that suits you!
Who can apply?
You may have a background in marketing but are looking to develop new digital skills, you could be new to this area and looking to gain a solid start in your career.  You may be an entrepreneur running a start up and in need of understanding how to meet your business marketing goals.
Candidates will be from a range of backgrounds including, but not restricted, to the areas below:
SME Marketing Managers & Entrepreneurs
Expand your digital understanding and develop an overall digital marketing strategy for your organisation, enabling you to accelerate your business growth.
Driven Graduates & Early Career Builders
Are you looking to make the jump into digital and fast-track into a competitive, creative and fast-moving industry?  This course could be the perfect option for you no matter your current role.
Non-Marketing Professionals
If you have knowledge of the marketing functions of the business, but not currently in a marketing role, Squared Online will help you to take the next step into an exciting new career
How do I sign up for a place?
We are pleased to announce that as part of the SMART Guernsey programme, AVADO is offering a cohort which begins in February 2023
To register, please complete the application form at the bottom of this page.
Applications for February 2023 are now closed.