Catching up with the Discover Digital Interns, Marcus, Luke, Eve and Laura
 Discover Digital Summer Interns Marcus, Luke, Eve and Laura have been on a rotation schedule in different companies during their six-week internship experience. Working at KPMG and Sure on various projects and then arriving at the Digital Greenhouse. For the last two weeks of their internship, they worked with us on developing some resources and podcasts to use in the Business Accelerator programme this October. Keep reading to find out how they got on!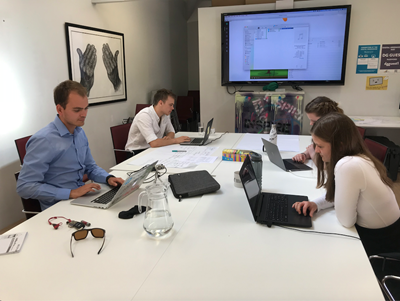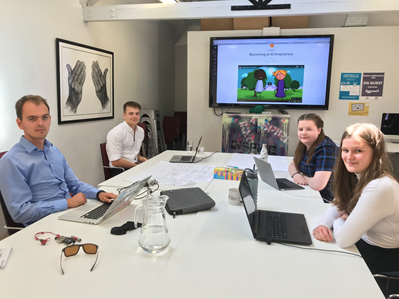 So guys, tell us what you've all been working on during your internship?
Luke - We've been at three different companies, as part of the six-week internship we spent two weeks with each company. At KPMG we worked with a brief, looking at their staff training system, and streamlining the action of creating an event by using programmes like UI Path, which is an example of RPA 'Robotic Process Automation'. We then generated a prototype for people who are arriving at events to sign up with an RFID Tag which would register them as attended under the categories of 'Those who were expected to attend and those that weren't, as well as the number of people that didn't turn up.' those numbers would then be outputted as lists and fed back into the global learning management system and emails would automatically be sent out with customised names and details about their training course which we then presented back to KPMG at the end of the two weeks. 
How did you find this journey? Did you all work together during your rotation?
Marcus - I thought it was really good, I enjoyed working as a group.
Laura - It was really nice cause all of us except Eve started at the same time so it wasn't scary going in to work with lots of people who had all been there a long time and our group was all in the same boat so that was really nice. 
So you came into the internship later on Eve, did you find it easy to settle in with your group? 
Eve - Yes! Everyone was very welcoming and they gave me a job to do very quickly, I teamed up with Laura and worked on a poll leaderboard with the RFID tags which was a bit of a bonus project we worked on for KPMG and we got along with that quite well.
 You've been here at the Digital Greenhouse for the last two weeks of your internship to work on a marketing project with us, how did you find the project planning and work distribution? 
Marcus - As we went through the brief we assigned tasks to different people, while we were working on the wireframes on the whiteboard we worked as a team and then we found a few things that were possible for us to all work together. It was interesting to see the differences between working as a team in education and in a professional environment. 
Did you develop any digital skills over the last six weeks? How do you feel this internship has benefited you?
Luke - I had to learn a lot of platforms I had never used before, I used Adobe character animation to bring some life to the podcasts we had been planning and recording, and I also had to learn how to use Adobe Audition, our main media editor for our interviews. I feel I was very supported in learning these new platforms and I can take these skills away with me. 
Laura - Personally I really enjoyed using the back end of the Digital Greenhouse website and app and finding out how these platforms worked. 
What would you say to students interested in joining the Discover Digital Internship next year?
Eve - It's a really good idea to apply! It's so easy and its a really valuable experience, there's so much you can learn in placements like these and a lot you can take away with you like skills and additions to your CV. 
We're looking forward to seeing the results of the hard work the Discover Digital Interns, they've created some great content to pair with the Digital Greenhouse and Eagle Labs Business Accelerator that's coming to the Digital Greenhouse this October.