Digital Greenhouse 2020 Year In Review
We take a look at what went on through The Digital Greenhouse in 2020

"No matter who you are or what you do, 2020 brought disruption and challenges for all.  However, through these challenges the Island has continued to innovate and collectively come together as a community to problem solve.  Here at The Digital Greenhouse, we saw another year of amazing local innovation, new business start ups and people up-skilling and empowering themselves to leverage technology.  Whilst 2021 has not quite yet been the fresh new start many were hoping for, as we begin to emerge from lockdown, we look ahead and are excited by the opportunities that this year will bring.
2020 was a busy year and despite disruption, The Digital Greenhouse has played host to some fantastic events and workshops to support business growth and up-skilling, utilising technology where needed to stand up virtual services. Building new partnerships has been a key focus and we have worked with over 120 established businesses in the past 18 months, building new programmes of activity, events and collaborating on support content.  
As we share some of the highlights of the year with you, we would firstly like to recognise that our work is made possible by our fantastic industry, government and third-sector sponsors and partners.  It is their continued support and work that makes the programmes at The Digital Greenhouse possible.  Secondly we would like to thank our amazing coworking members, who feed the daily buzz of the building (when allowed in!) and through their collaboration, interactions and entrepreneurial spirit, a welcoming and productive cowork is realised.  Finally, I would like to thank The Digital Greenhouse team.  Ben, Jenny, Rebecca and Charley for their dedication to our values as an organisation and our drive to grow the digital, creative and entrepreneurial environment for Guernsey."
Lucy Ann Kirby - Director, The Digital Greenhouse
The global pandemic has brought to the forefront the importance of digital skills and innovation as key to adapting to the dramatic disruptions in our lives and economy. We must continue to accelerate our digital capability by investing in the enabling infrastructure and skills and by supporting innovation and entrepreneurship to embrace the opportunities and adapt to the challenges of the New Economy.

The work of The Digital Greenhouse has been central in driving a coordinated effort for our digital ambitions and despite the many pandemic challenges, delivered a fantastic program of support and activity in 2020 in partnership with industry and the third sector.
Deputy Sasha Kazantseva-Miller - Lead for Digital, Skills and Entrepreneurship, Committee for Economic Development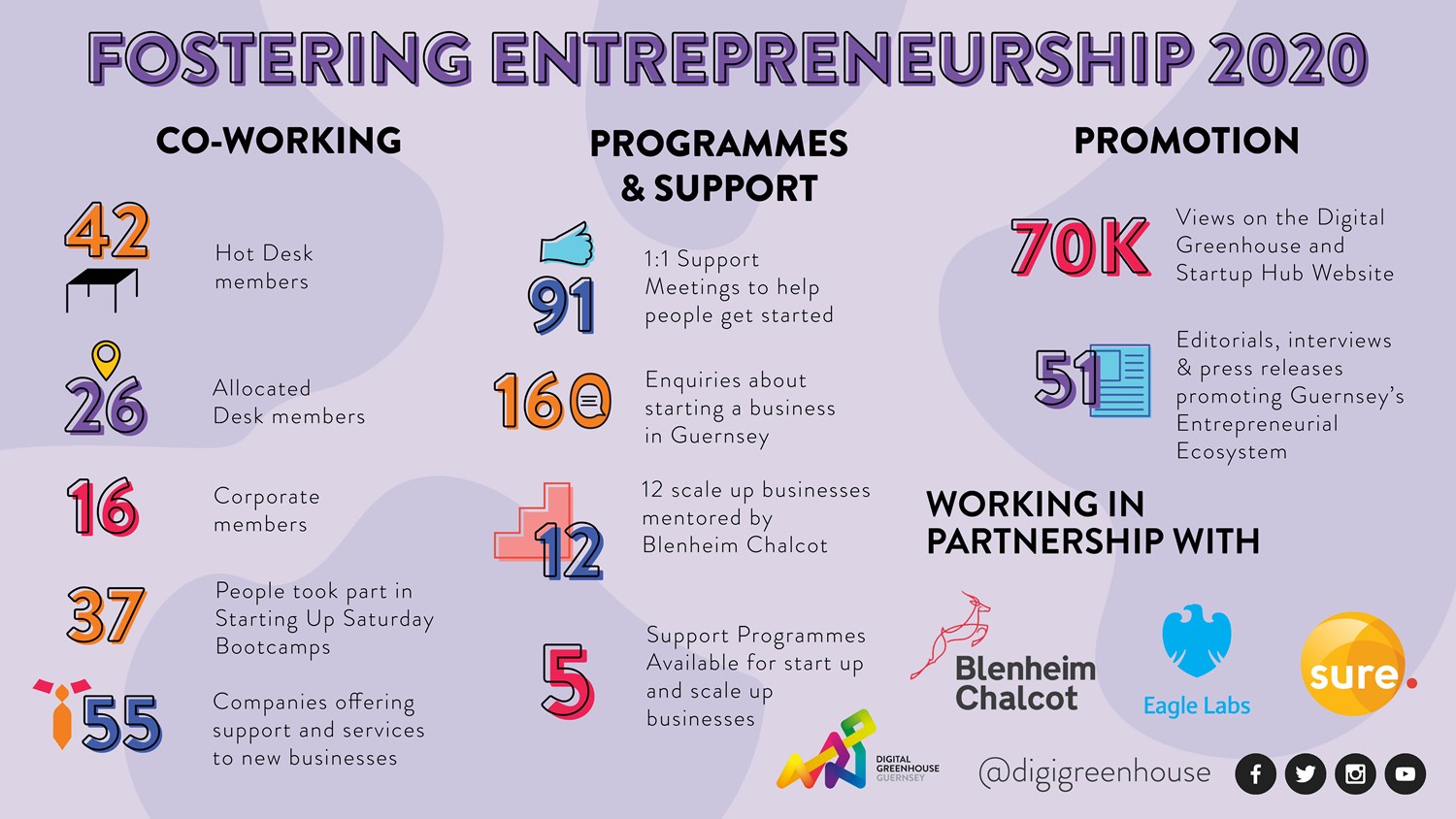 Enabling Entrepreneurship
2020 brought the first in a series of programmes with Blenheim Chalcot to support venture growth on Guernsey.  As the UK's leading digital venture builder, they have brought high quality learning, networking and business mentoring to the Island and with eight inflight initiatives, local entrepreneurs, businesses and individuals are already feeling the benefits.  
With the launch of the StartUp Hub in March, it was a busy time for those looking to get started on their new business journey.  With full attendance on Starting Up Saturday bootcamps, similar programmes are already well subscribed for 2021.  Working with Barclay's Eagle Labs, those starting on their journey can gain access to business planning, mentoring and unlock barriers to small business banking.  With many entrepreneurs taking up this offer, new business founders are supported in what can be the hardest part of starting a new venture, getting the foundations right and winning their first customers!  Despite the challenges of 2020, Barclay's Eagle Labs continued to operate, switching to a virtual model and Guernsey gained access to a wide range of virtual events and entrepreneurial workshops from the wider team.
The StartUp Hub provides those first important steps and now working with Blenheim Chalcot, expert mentoring for those looking to scale and grow their businesses is also on offer.  Scale up support is enabling local entrepreneurs to grow into international markets, develop governance, marketing and routes to investment, giving them the support they need to take the next step in their ventures.  This programme continues into 2021 and we look forward to seeing where the current cohort of entrepreneurs go from here.
2020 saw a sharp rise in remote working and alongside local entrepreneurs, our co-work hub welcomed many new hub members.  Taking advantage of the Hubs super fast connectivity powered by Sure Guernsey's infrastructure sponsorship, our members have benefited from a technical infrastructure which has provided the speed and resilience that they need to run digital and creative business activities.  With three levels of membership, the Hub has given a dynamic and flexible solution for those looking for a different approach to the office.
Interested in finding out more? Check out our programmes and support page here: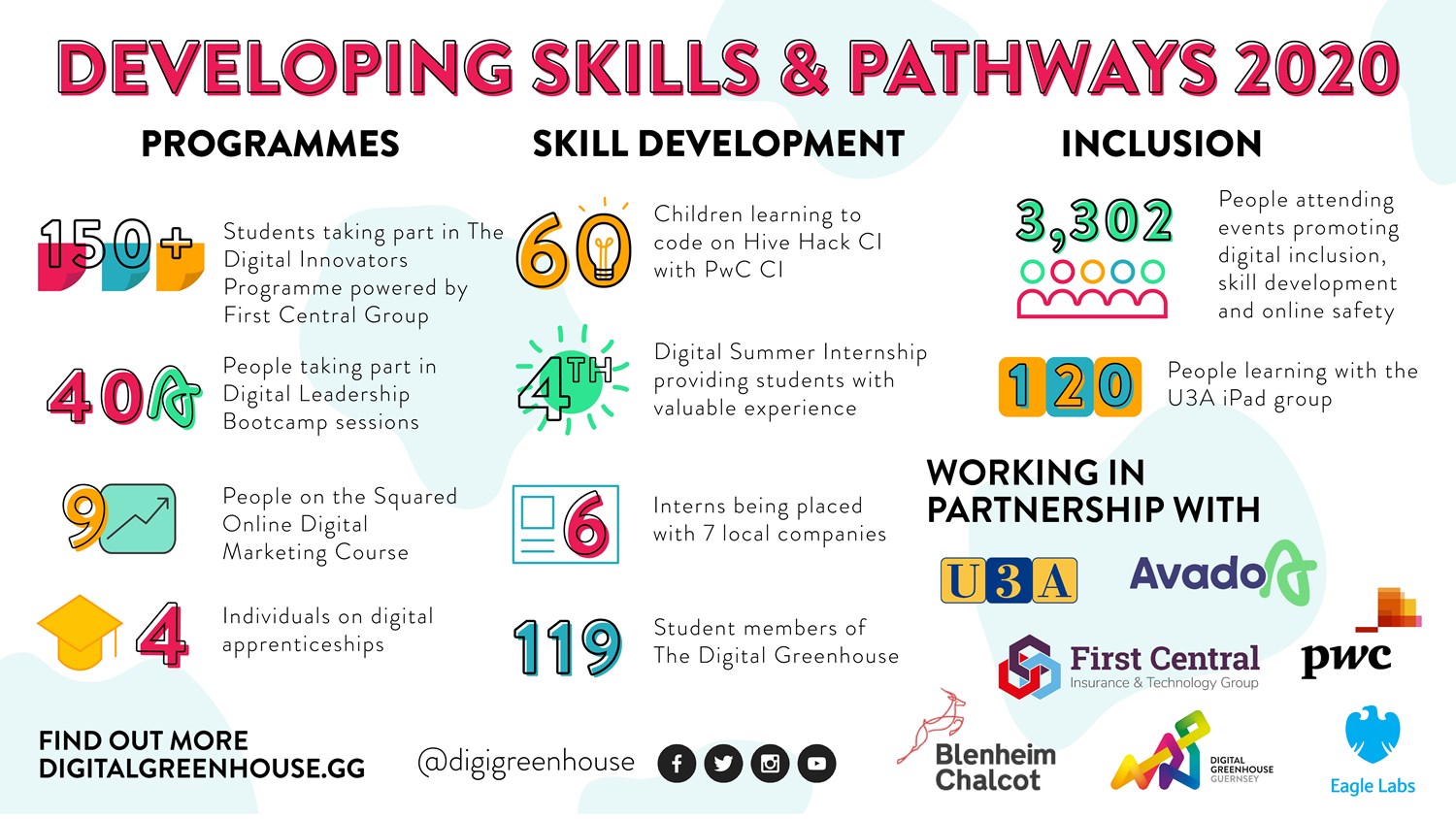 Digital Skills Infographic
Digital Up-skilling
Learning has undoubtedly changed forever, with so many more options now available to Guernsey as more move online and people  get to grips with the changing career landscape and urgency to up-skill.  Now more than ever we are seeing individuals looking to up-skill or re-skill.
Over the course of the year, a number of learning programmes and pathways have been launched.  2020 saw the first Digital Leadership Bootcamps take business leaders on a deep dive into customer experience and digital transformation.  Fully-funded through the SMART Guernsey programme with Agilisys Guernsey and the States of Guernsey, a full suite of learning opportunities across leadership and digital marketing were launched, enabling the first digital apprenticeship on Guernsey and a fully online digital marketing qualification.  The first cohorts are still powering through the courses, but feedback to date has been extremely positive both from the individuals and also employers
2020 saw the Digital Innovators Programme, which is powered by First Central Group and organised by the Digital Greenhouse, completed its second year with over 150 students taking part. The Digital Innovators Programme is aimed at developing problem-solving, collaboration and key digital skills with post-14 students in Guernsey. The programme consists of a range of sessions including Ideathons, Women in Tech events, User Experience Design workshops and coding sessions where Digital Greenhouse and First Central Group team members helped develop students' skills and showcased the range of opportunities in the digital sector.
The ever popular summer internship has now supported over 45 students through 12 companies, seeing a pipeline of new talent into business, with many completing studies and gaining employment back with the companies who worked with them on the scheme.  This truly shows the value of bringing students and employers together, in meaningful and appropriate ways to feed the growth of new industries and digital areas of business.  We often ask ourselves the 'so what' question around impact, and seeing young people engaged and inspired to take up careers and return to the Island is fantastic to see. 
Interested in finding out more check out our courses and up-skilling page here: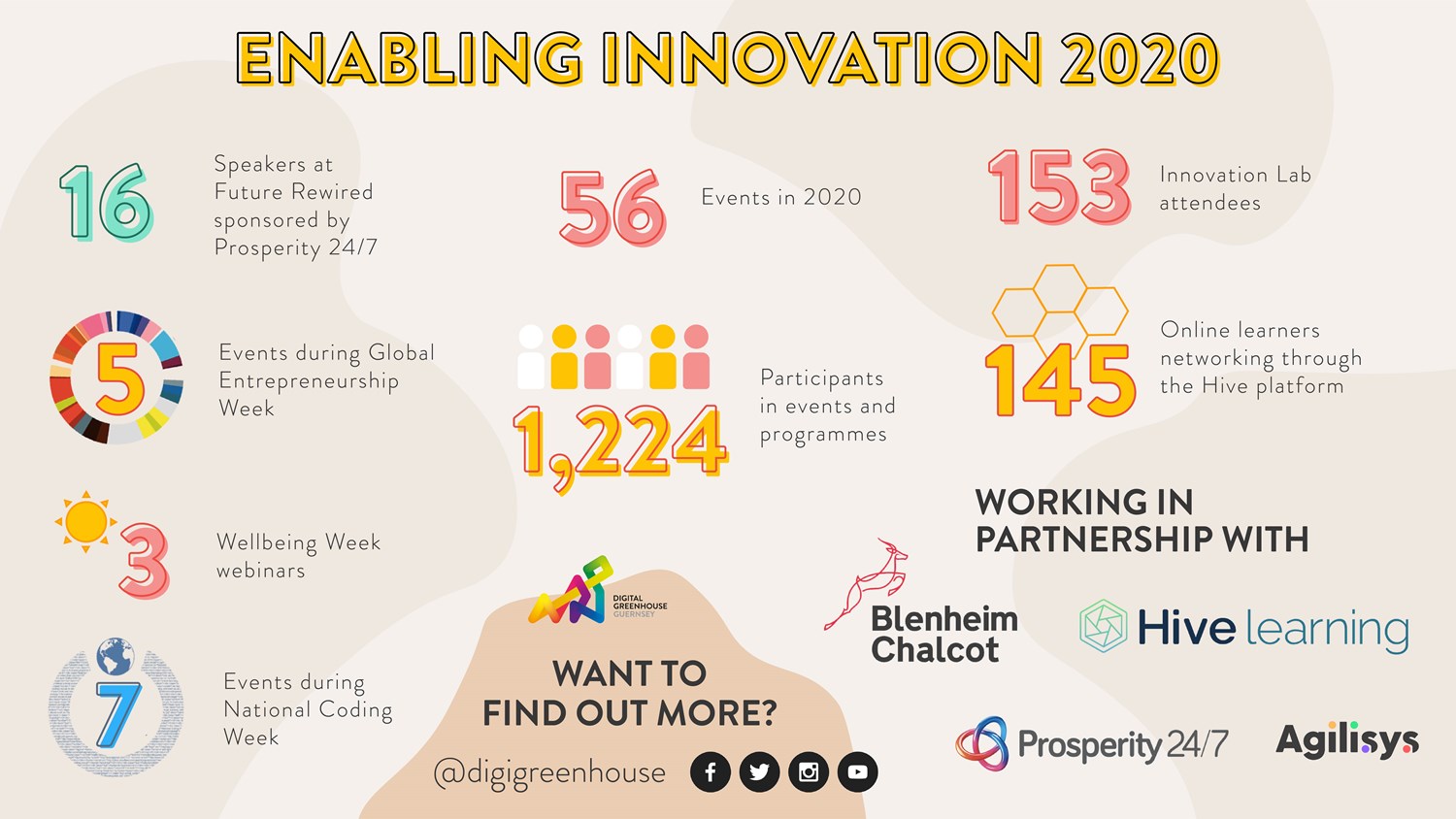 Innovation Infographic
Driving Innovation
The launch of the Hive Learning Hub this year has seen people adopt a new approach to learning and sharing of innovative working practices, with bite-sized content and a collaborative platform to share ideas and skills.  Over 140 individuals from all walks of life have joined the pilot groups and we look forward to a full blended programme of up-skilling through Hive and face to face events has already kicked off this year, encouraging people to innovate, share knowledge and learn.
The Digital Greenhouse hosted over 56 events during 2020 with 1,224 attendees across the year. These included three feature weeks; Wellbeing Week, National Coding Week and Global Entrepreneurship Week, focusing on sharing and promoting innovation within different areas. Wellbeing Week was the first series of the year with 3 webinars taking place. They highlighted 3 different local organisations all with one common aim of improving peoples' mental health. The talks covered topics such as how to develop innovative ideas, how to work with the community to build good products and services, and how technology can be used as a tool improve mental health.  
In September, the Digital Greenhouse hosted the second Future Rewired conference, sponsored once again by Prosperity 24/7 as part of National Coding Week. Future Rewired was a day long conference packed with 16 speakers talking about products being developed, deep dives into different technology areas and sharing some innovative working practices. The Digital Greenhouse 2020 event series culminated with Global Entrepreneurship Week in November which consisted of 5 events with inspiring talks on innovation within businesses and a number of top take away tips for attendees.
The Digital Greenhouse also held the monthly Innovation Lab with over 150 individuals attending in 2020, covering a broad range of topics, from 3D printing face shields to using agile practices to scale businesses. 
If you want to find out more about what is coming up in 2021, take a look at our events calendar here:
Moving Forwards Together
So what does 2021 hold for us here?  Whilst the start to the year has been somewhat rocky for the community, with all the challenges come great opportunities.  We look to continue to grow our contribution to the Island and work with our industry, government and third-sector partners.  We are looking forward to continuing to deliver high quality up-skilling, business building and knowledge sharing activities in an inclusive way, empowering change and new venture growth.
Interested in getting involved?
Come and have a chat with the team.