Taking a look back at 2020's National Coding Week and Future ReWired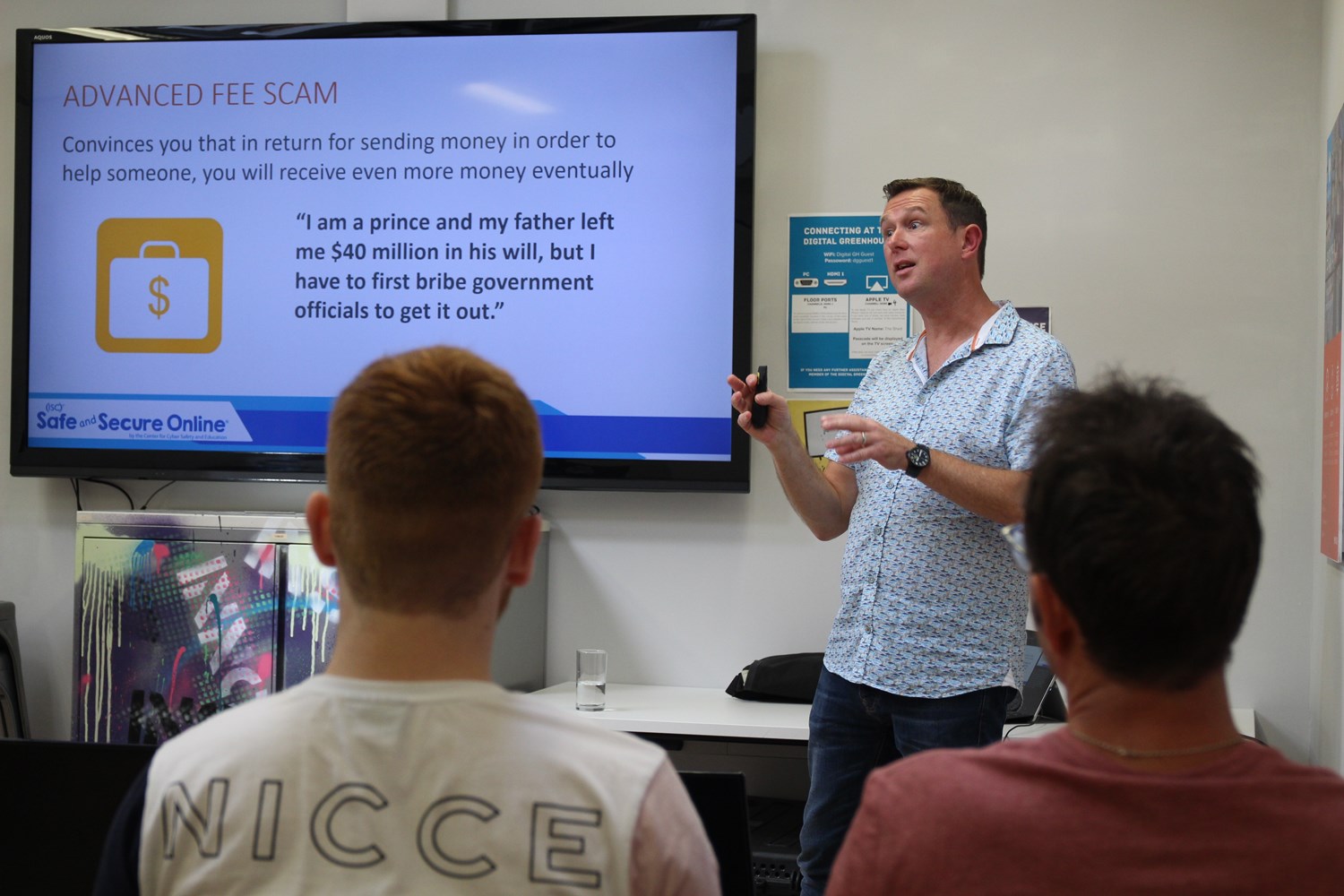 Cyber Citizens: Online Safety for National Coding Week
The event started with Matthew Parker, the Chief Information Security Officer for Mourant talking about how hackers steal encrypted passwords on masse, and how they use dictionary attacks to unencrypt them.
Matthew explained how it doesn't matter how unique your password is, if you use your passwords on multiple websites then you're at risk of having those accounts accessed. He brainstormed ways to come up with making more secure passwords such as acronyms and the dangers of using open wifi, advising to use your 4G over using open Wifi as these tempting password-free wifi portals at airports and cafes can often be not secure enough to keep your information safe.
'Always use a VPN in these instances' Matthew advises, with trusted security tech like Norton. Matthews top tip, 'Always pay for your protection!'
Then Matthew went into detail about Ransomware scams, how quickly people can steal domains and use them to infiltrate companies and steal information. As well as advanced fee scams that often pretend to be a colleague in your company that could be asking you to pay money to an account ie. a leaving present or bills. 
While talking about these email scams Matthew showed us a website called haveibeenpwned.com that shows if your account has been compromised. Matthew wanted to stress that in the case of one of these events happening to you to stay calm and report it. actionfraud.police.uk
"Security affects us all young and old, and we all need to learn how to be more aware and act responsibly online."
Matthew Parker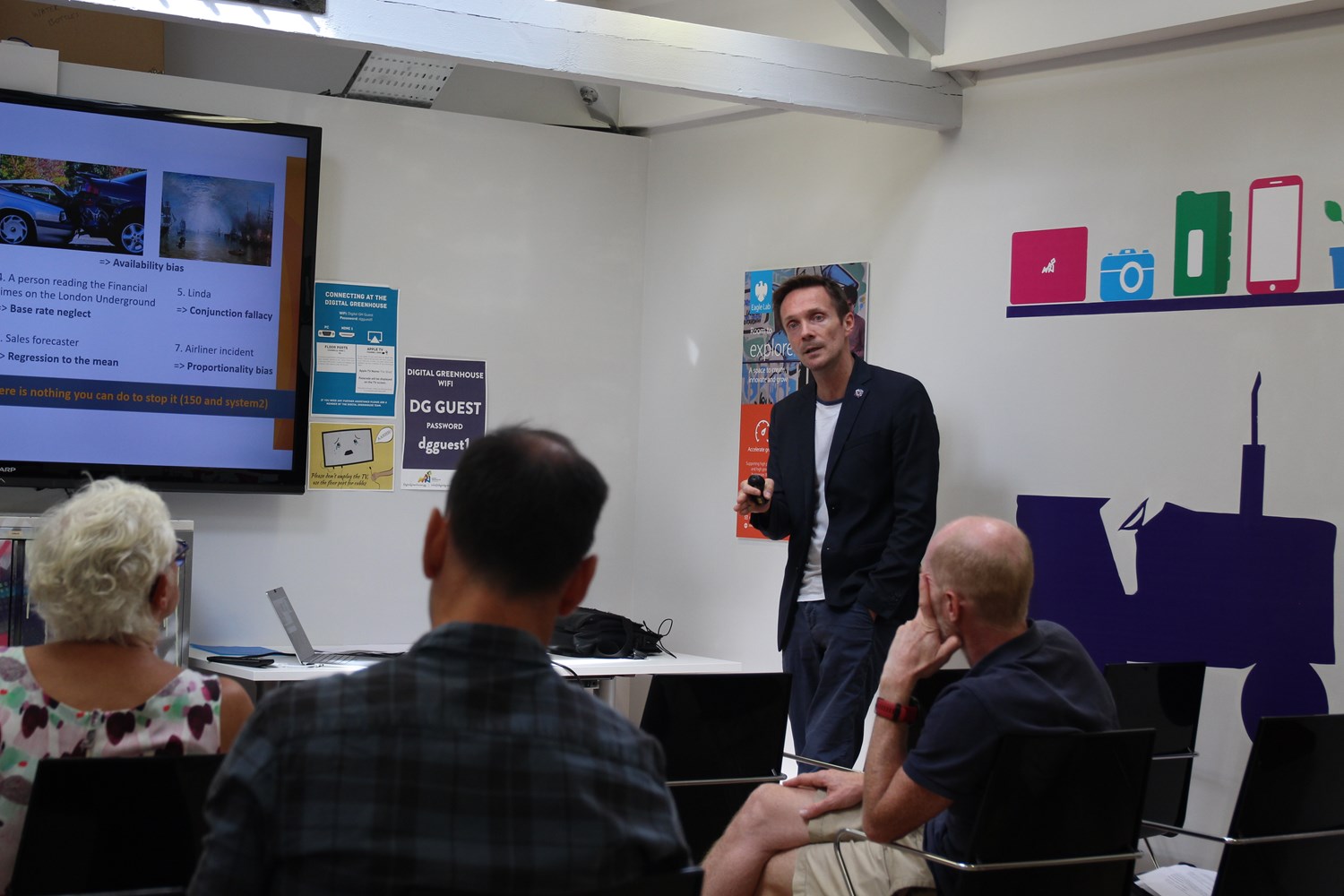 Decision-making under opacity
In a more and more opaque world, how one can take advantage of Volatility and Uncertainty while dealing with and controlling Complexity and Ambiguity (VUCA)?
Cyrille Joffre, Chief Operating Officer for Sure Group, started the session discussing the strategies that businesses can adopt around VUCA and the importance of these plans for startups and established companies that want to pivot. 'What causes what?' we took a look at the steps to create an identification strategy, learning how to put these processes in place and discussing that complex systems do not need complex policies.
In the second half of the session, Cyrille discussed 'Is decision making broken?' we looked at a survey taken in 2019 from 1,200 managers worldwide, that showed that 61% say at least half the time of decision making is ineffective and much of a manager's time is taken up making these decisions. How we should manage the systemic fear of failure in business, and how to avoid putting off decisions or teaching your employees to never fail. At the end of the session, we looked at procrastination during interventionism and the risks of putting decisions off with some historic examples of the net loss that happens because of this conscious decision that is often hidden. That data can be toxic! and we are always looking for connections in our insights and making answers that may be false. Cyrille emphasised that data can hide failures and how you calibrate and collect your data is very important.
Future Rewired returned for its second year, after a successful launch in 2019. The Technology Festival is a hub of activity where people from the across the tech sector can together and share their knowledge, showcase their products and run innovation workshops. Future Rewired was kindly sponsored again by Prosperity 24/7
This year featured 16 speakers from a range of digital career pathways take to the stage hosting talks and workshops covering topics such as Data Analytics, App Development and innovation and a number of digital products that have been developed locally being showcased. During the day 60 attendees learnt tips on coding, programming and innovation techniques and ethical creativity.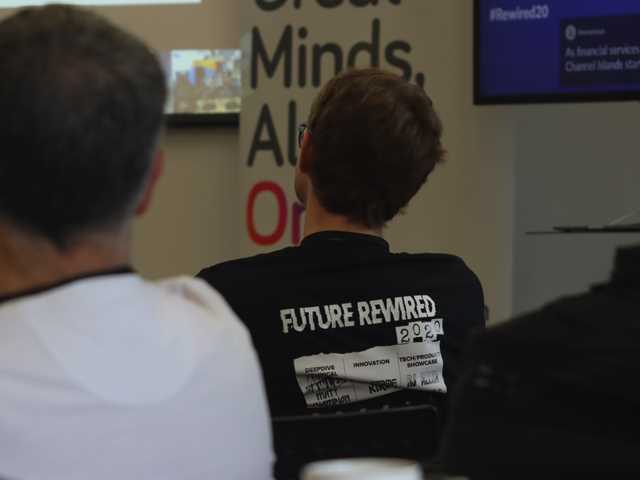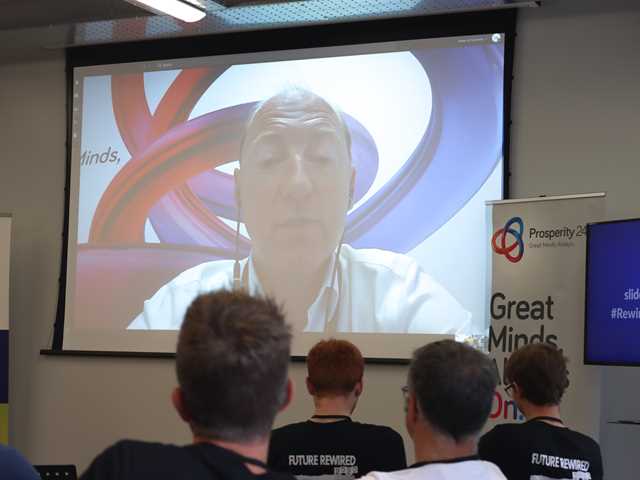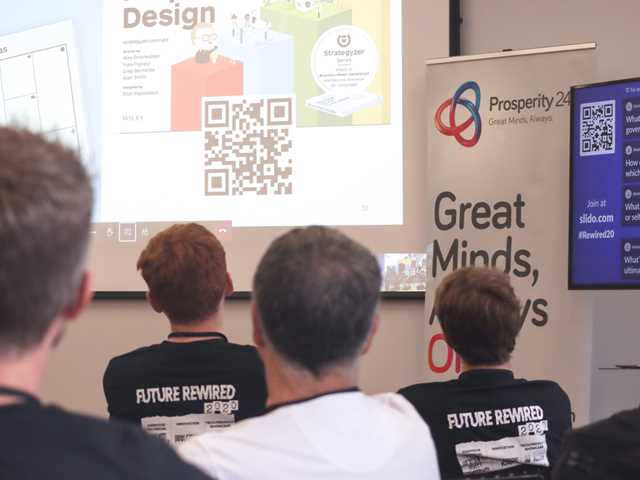 The day started with a fireside chat with Chris Clark, CEO of Prosperity 24/7 who joined remotely from Jersey. Chris covered three areas in his talk, his own journey, digital inclusion and taking products from an idea to execution.
Speaking about his own journey he spoke about the ups and downs of his career. As well as focusing on the courses and programmes he undertook to develop the key skills he needed to progress his career. He urged the audience to take charge of their own destiny by taking charge of your own learning. The second part of his talk focused on digital inclusion, highlighting the important need for digital upskilling across the island. 
In the final part of the talk Chris covered the history of some of his ventures talking about the good bits and the painful bits. Highlighting that the journey might not always be easy but it is always important to be able to reflect on ways to improve. 
Find out more about Chris' talk in his write up here.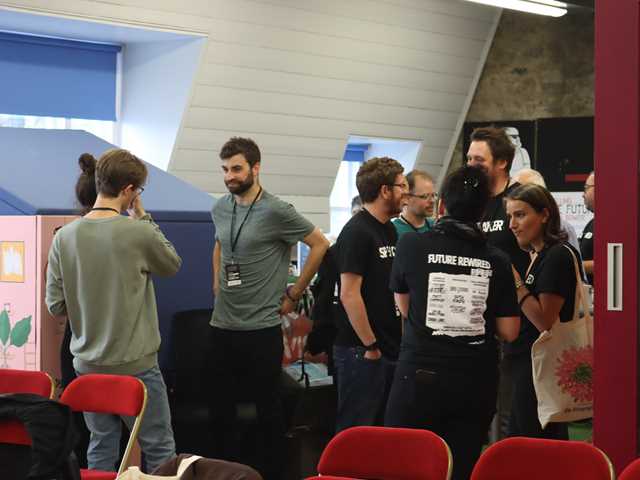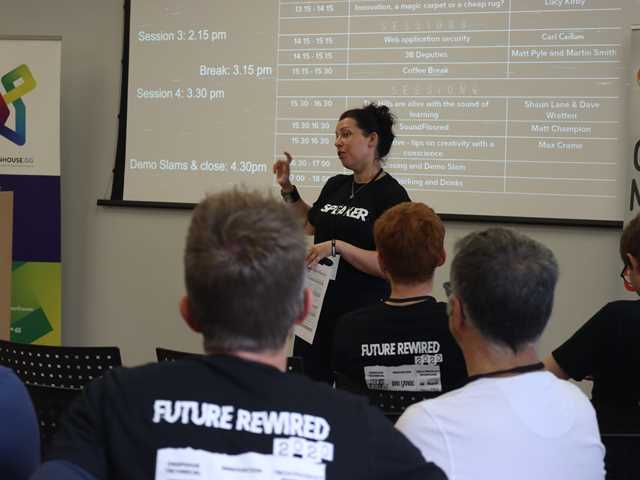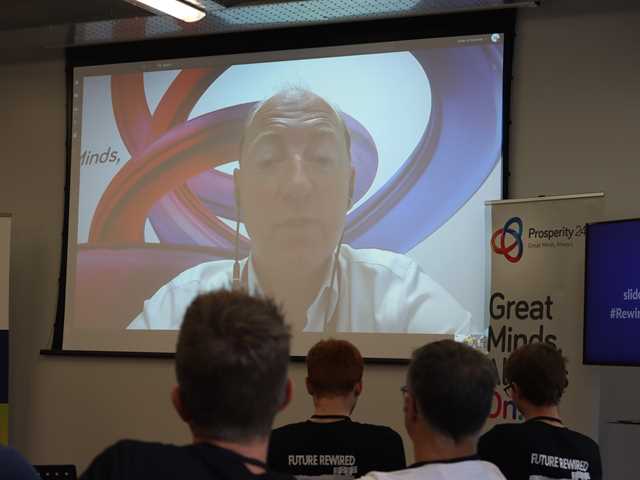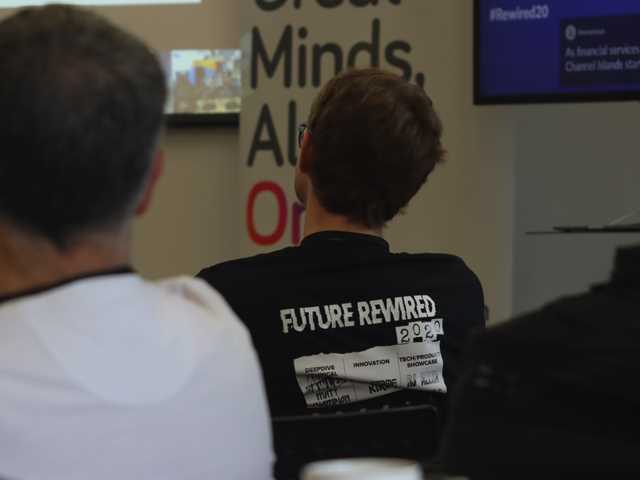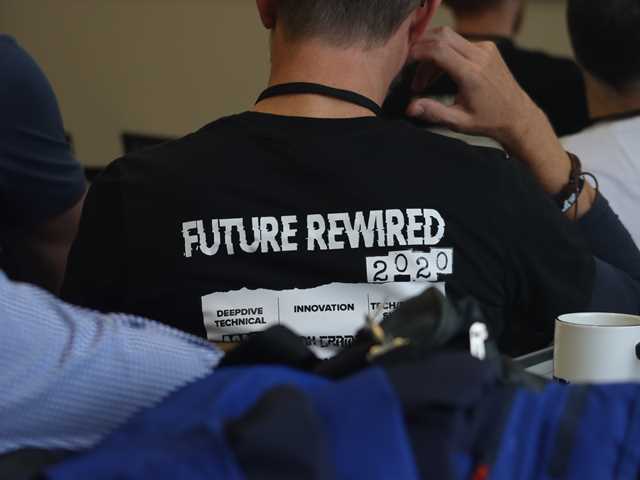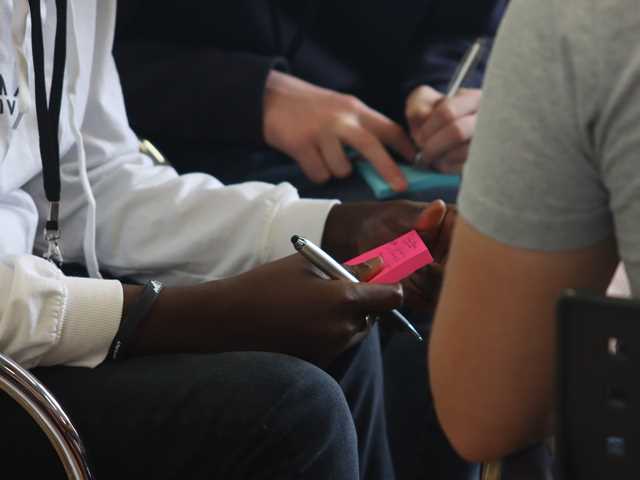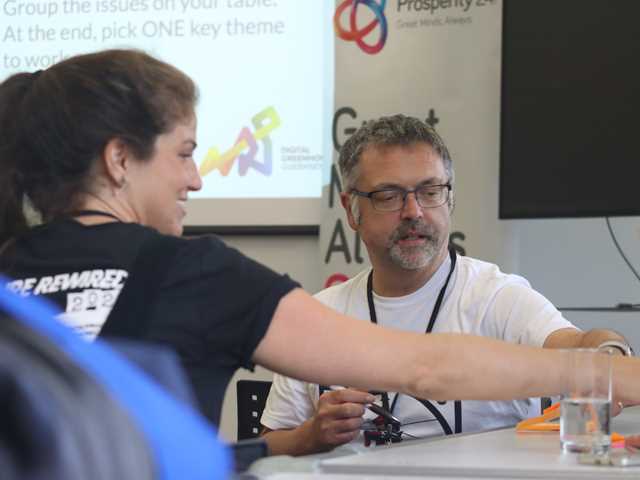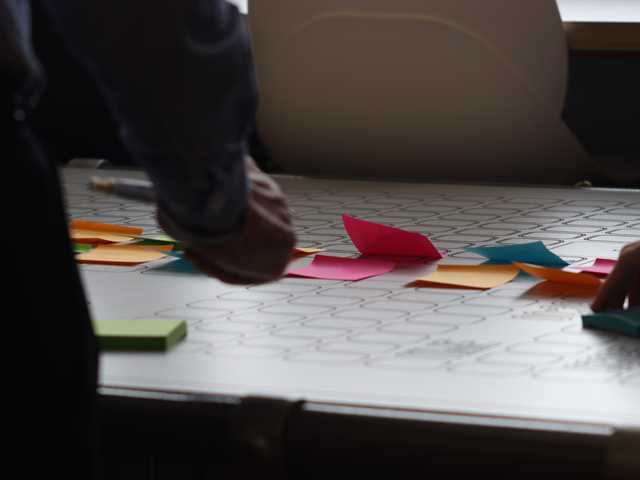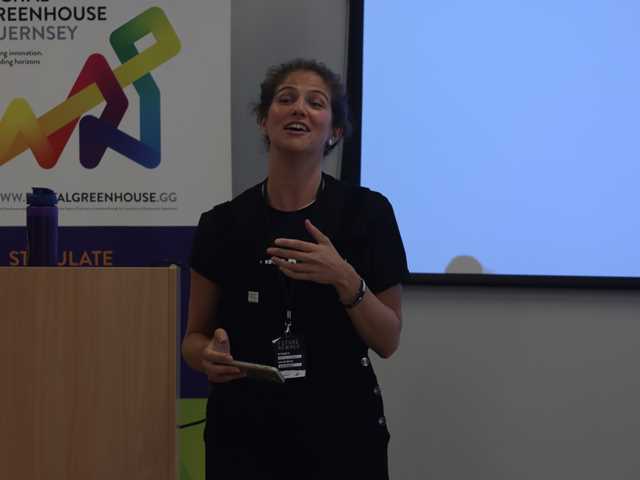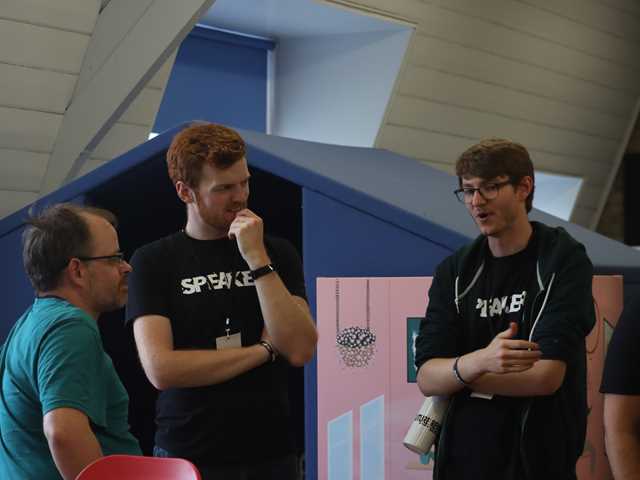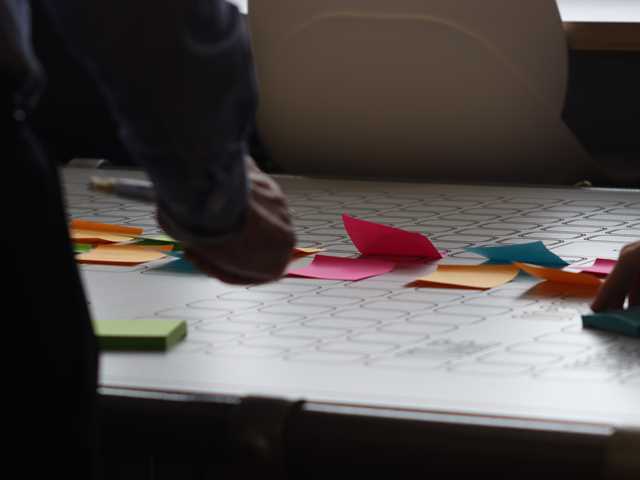 Don Lowe - Human Systems
Don Lowe from Submarine Guernsey discussed 'Human systems and the myth of the perfect system.' Building your computer system by understanding how human minds work.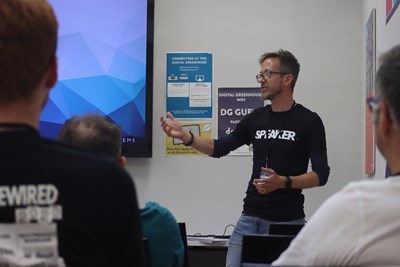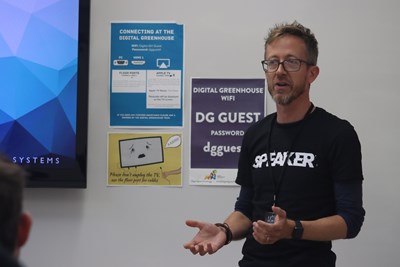 Adam Rawles - What I Wish I Knew When I Started Using R
Adam Rawles walked us through his technical talk, 'What I wish I knew when I started R' explaining how he is using RCoding and tips to make using it easier on developers and those wishing to go into his field of work.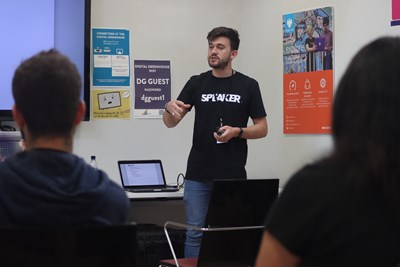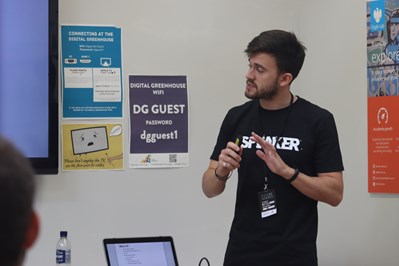 Carl Ceillam - Web application security
Carl Ceillam from The Chain, walked us through web application security, the problems we face, the areas we can improve upon and the human error we can expect in this age of technology.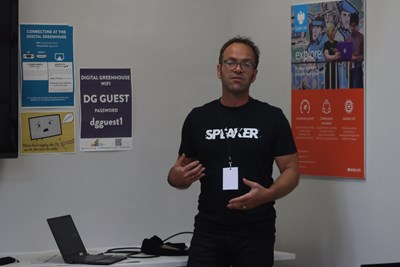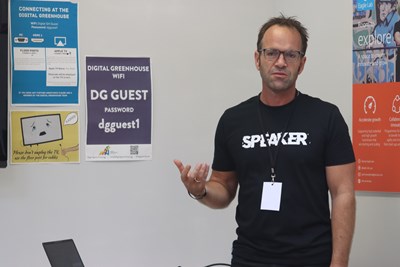 Shaun Lane & Dave Wratten - The Hills are alive with the sound of learning
Shaun Lane and Dave Wratten from Resolution IT presented their deep dive on the RIT Academy application they are using within their organisation and the aspects of the interface that make the user journey much easier and enjoyable for the team.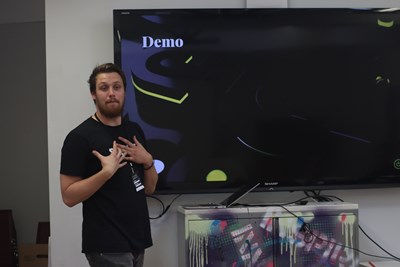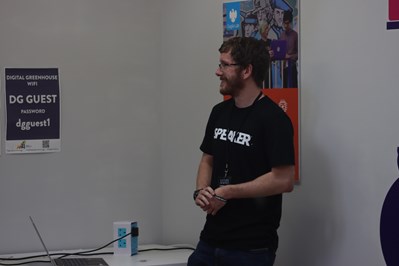 Charles Christian & Ben Wratten - EdTechConnect
Ben Wratten and Charles Christian
presented their platform
Ed Tech Connect UK, the progress they are making during development
and their next steps for the future, bringing together technology and education.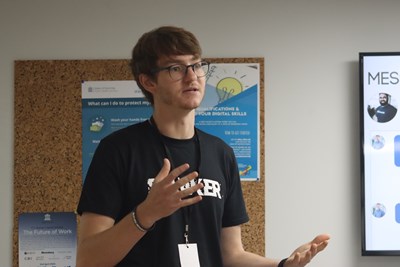 RJ Allen - Uniti A summary of the well-being and volunteering platform
RJ Allen showcased the Uniti app platform, a wellbeing and volunteering application encouraging people to help others as well as helping yourself. He showed us the insightful 'Gratitude Wall' users can use for a daily mental wellbeing check in.
RJ discussed culture change and how Uniti will use a halo system to keep count of users volunteered hours and how you can share those halos with others to help them out.
"Doing good makes us feel better."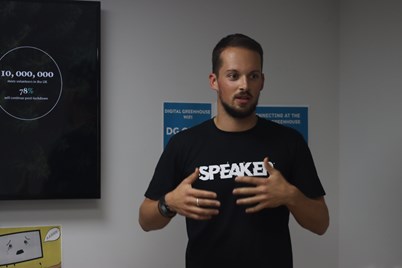 Matt Pyle & Martin Smith - 38 Deputies
Matt Pyle and Martin Smith presented their platform 38 Deputies, created to help islanders navigate the many local candidates in this years election. They showed us how they had programmed in a 'tinder-like' swipe system to quick decide what political ideals you agree with and then sort into 'very important values' and not. Then the application would show you what candidates share those ideals and hopefully make it easier for the user to make their vote later on.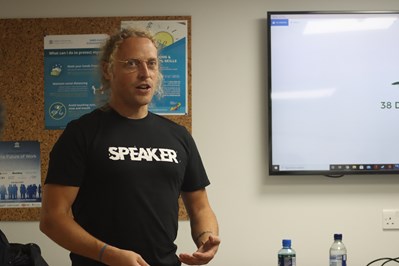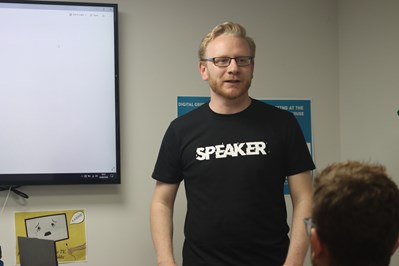 Matt Champion - SoundFloored
Matt Champion spoke about his SoundFloored product, a raspberry pi based music project, developed off the back of identifying a need for music tracks to be easily triggered for live performances. Matt covered the building of the project and the tech behind it as well as including a hands on live demo.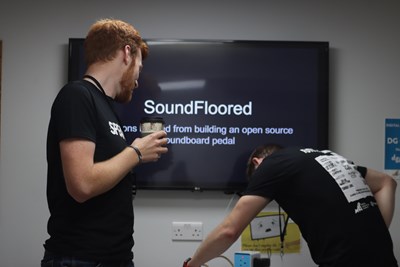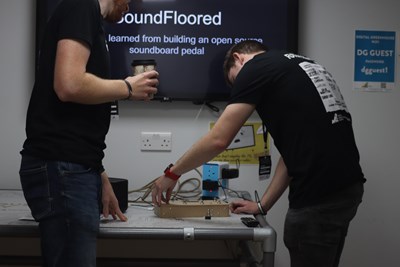 Anita Kilby - Building businesses post covid
Anita Kilby shared her experience building businesses and the opportunities that COVID has produced, affirming that passion is key to entrepreneurism and technology is just a facilitator. In this innovation talk Anita encouraged to think laterally, "While out fishing try and catch all fish not just the mackerel."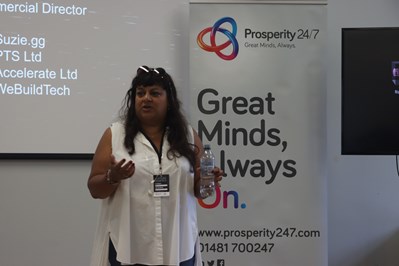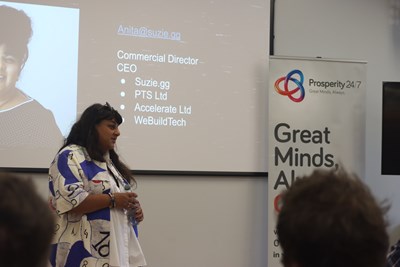 Lucy Kirby - Innovation, a magic carpet or a cheap rug?
Lucy Kirby
presented her talk on innovation, asking the question "Is it just becoming a badge of honour?" The attendants were then divided into

teams and began creating quick fire ideas to solve the problems statements that were brainstormed from rabbits to social accountability and everything in between

 
with a '100 ideas in 10 minutes' brainstorming session.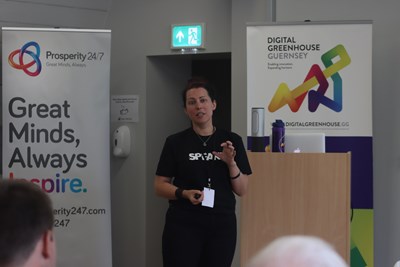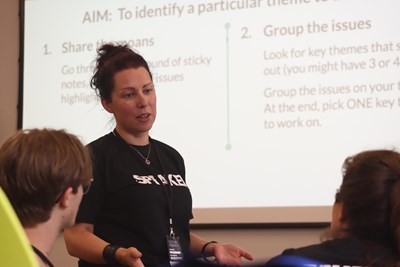 Max Crame - Good Creative - Tips on creativity with a conscience
Max Crame's talk on creativity with a conscience ran through the notion of responsibility that those in creative jobs have to the world around them. Whether it's supporting a societal justice or bringing awareness to environmental issues. He took us through some projects he has worked on and things to bear in mind when creating media for these causes. "Make the design so that people want to get involved, you have to create that hype to bring these issues to the front of social conversation. Make it trend."