The Art of the Possible
7 months in, The Digital Greenhouse reflects on the launch of the Startup Hub for Guernsey and the progress to date.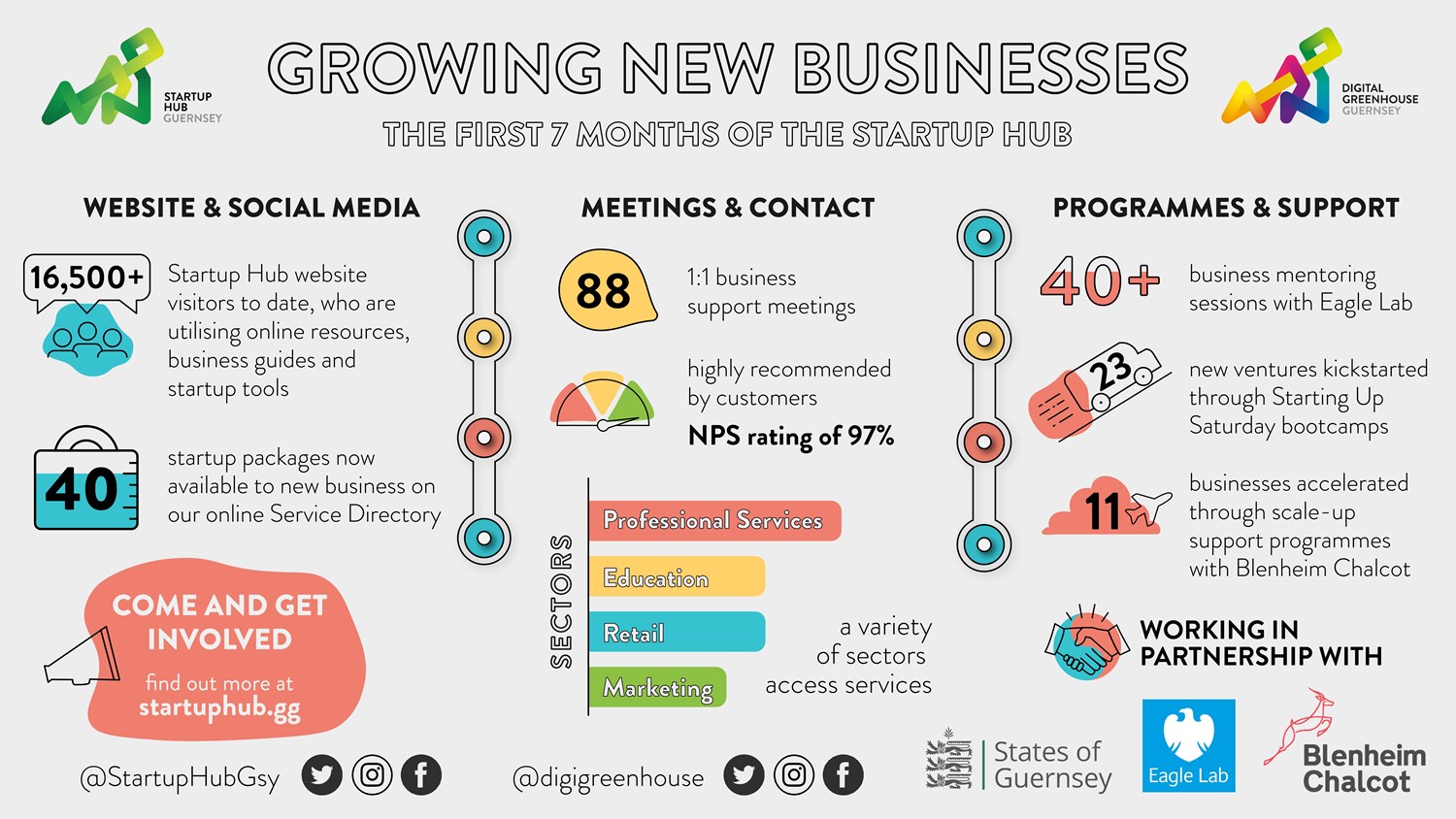 Taking that first step, or leap in many cases, towards starting your own business can be hugely daunting but the benefits of being your own boss, choosing your work patterns and doing something that truly inspires you are clear. 
In a time of uncertainty for many in the traditional workplace, we are seeing a real growth in people looking to a different path. Whether this be a small, side business resulting in a hedge-veg enterprise, or a fully-fledged operation jumping in full time, the options are endless. With the rise of the gig economy, many people are realising that they have a depth of knowledge and skills that they can convert into hard cash.  Platforms such as Teachable and Skillshare have given people the opportunity to build a knowledge-based business, reaching a global audience with little to no startup costs, turning hobbies and creative interests into side-hustles and growing ventures. Others are looking closer to home, thinking about how to grow their passion into business.
Here at the Startup Hub, Guernsey is seeing a rise in those looking for creative new ways to work and start new businesses. Championing simplicity and demystifying the startup process is what we are all about here.  Creating clear and accessible content to guide you through the first steps in planning and launching your own business is essential. 
"Complexity is your enemy. Any fool can make something complicated. It is hard to keep things simple"
Sir Richard Branson (Founder of Virgin Group)
There is an abundance of information out there, but navigating your way through can be hard. With over 12,000 visitors to the StartUp Hub web pages in the first few months, we can see the importance of providing people with a simple path to follow. Sometimes you just want to talk to someone about your plans and find out those first steps, whether it's gaining clarity on a certain issue or just making sure you have covered the basics, the team is on hand for some friendly 1 to 1 support. We have already met with over 90 fledgeling ventures from all sectors since our launch and, working alongside Barclay's Eagle Lab, new businesses can benefit from mentoring and expert advice in their early stages.
Starting a business takes a lot of time and energy, entrepreneurs need to find time to prioritise their business venture, often balancing home and working life at the same time. Our Starting Up Saturday boot camp series has given those looking at starting-up a dedicated day to developing their business ideas further. So far in 2020, we have had 23 new ventures on the programme, working together, developing their pitch, value propositions and most importantly a wider network of people and support.
As we move forwards to 2021, The Startup Hub continues to grow by building effective and powerful partnerships for the entrepreneurs of Guernsey. Working together with Blenheim Chalcot and Agilisys Guernsey, a full programme of upskilling and mentoring programmes are giving a boost to those looking to scale-up their ventures beyond the startup phase. Paired with learning programmes to build digital leadership and marketing skill sets, now is an exciting time to be growing a new business here in Guernsey.
If you are thinking of taking your first steps on a new venture or are looking for support to scale up an existing business please visit www.startuphub.gg to find out more.