Youth Commission and First Central Group announcement #PowerOfPartnership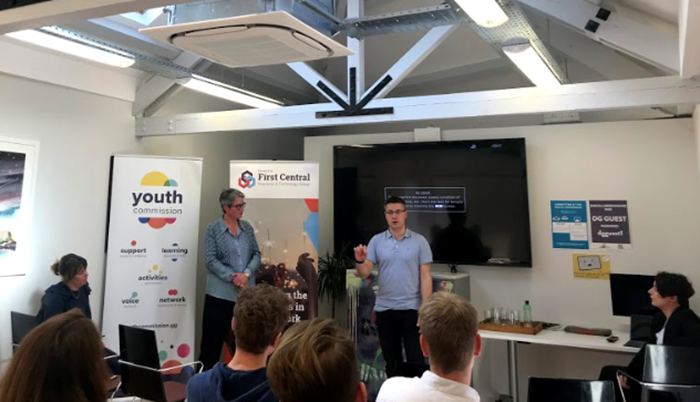 On the 11th of April here at the Digital Greenhouse, Youth Commission and First Central Group announced the results of a 2-year partnership project to the press.
First Central Groups commercial insurance platform has been adapted for Youth Commission to capture and store young people in care's information, such as young people's housing status, health statistics, child protection history and support referrals, to help them find the right support they need when they need it. The platform has a very user-friendly front end and helps youth workers record data (traditionally captured by paper and spreadsheets) on a platform that keeps all information together and is secure. Many of First Central's software development team, including senior executives and the Discover Digital interns, have been involved in the project. 
John Davison, chief information officer at First Central, who came through the UK's social care system, said that the project was one that was close to his heart. He explained, 'An insurance company and a youth charity might seem like a strange partnership, but what ties this together is cutting-edge technology.'
Jane St Pier, interim CEO of the Youth Commission said that she thought there was a danger that data has a scary Black Mirror concept, but actually if you collect data correctly you can drive positive outcomes. She added: 'Having this information available on one platform not only reduces the Youth Commission's administrative costs, but it also makes us more effective at supporting young people. Not only can youth workers better assess the impact of individual interventions but in turn, the collection of data will allow the community to understand the reality and needs of our young people in real time.'
Approaching data protection, First Central Group reassures us that data is all encrypted, and protected by its own firewall, this platform essentially gets the high-level management that First Central Group can supply. From audits and regular security checks, First Central Group is confident that GDPR breach won't be a problem. 
The platform will have a more efficient collection process, a large step away from traditional ways of recording data, which will help youth workers keep all relevant information together so that the risks of trust issues are negated. Youth Commission wants to be able to use that information to be able to intervene before a crisis happens.