Business Accelerator - Class of 2019
The first Eagle Lab and Digital Greenhouse Business Accelerator came to a close during Global Entrepreneurship Week this November, with eight entrepreneurs from a diverse range of sectors from food production to mentoring, education to retail. Following six weeks of the intensive programme, bootcamp and twilight sessions with industry experts, the participants presented their fledgeling businesses to an open audience of individuals, business leaders and investors on Wednesday evening
"From idea to reality - Join us for the first 100 days of your new business"
Guernsey Business Accelerator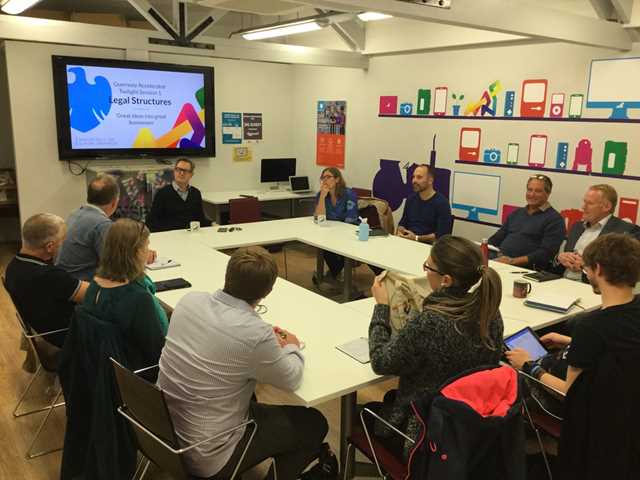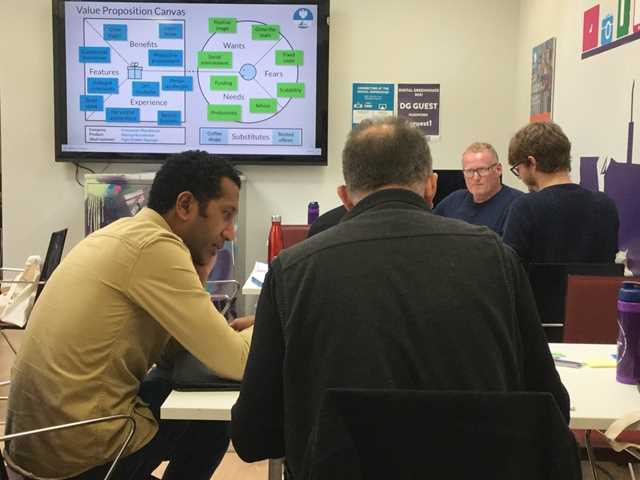 The business accelerator provides a launchpad for new or fledgeling business ventures, guiding them through an intensive focused bootcamp, with expert mentor support provided by BDO and a series of twilight sessions from a fantastic range of subject matter specialists, to accelerate them from a 'wantrepreneur' business idea to reality.
Co-constructed by Eagle Lab Guernsey and the Digital Greenhouse, the programme started with the HeadStart Bootcamp for the businesses, then proceeded with weekly sessions covering legal structures and protective strategies, finance, revenue and cost structures, important marketing strategies for startup businesses, a session on mastering ideation and finally a presentation skills workshop.  
If you would like to find out more or register your interest for the next cohort please visit the Business Accelerator page here.
Presentation night 
The accelerator presentation night marked the end of Guernsey's first business accelerator programme. Deputy Andrea Dudley-Owen opened the event, talking about Guernsey's long and successful history with entrepreneurship. Gez Overstall, Eagle Labs Eco Manager and Lucy Kirby, Digital Greenhouse Director, compared the night, thanking both the participants and also the subject matter experts who gave their time to support the entrepreneurs. 
Five of the eight Accelerator businesses presented during the evening, with each entrepreneur showcased their concept and talking about their journey over the course of the programme.  If you missed the event, here is a short overview from each company,
Nigel, Founder of Multi-Yo, Nigel has set out to re-invent healthy yogurt, that is still delicious!  His product focuses on helping you to support your gut microbiome™.
Jon Buckland, Founder of Unleashing Potential. Gave a passionate presentation about his coaching business which focuses on three key areas of support - personal development, cultural transformation and successful teams.
Louise Hesse, Founder of Rentables. Louise looks to draw attention to the damage that consumerism is having on the environment.  Her peer-to-peer lending platform is an ideal solution for Guernsey and she hopes to be up and running in time for the Summer! 
Paul Chambers, Founder of Paul Chamber's Photography. With stunning imagery, Paul took the audience on a moving and emotive journey about creativity, faith and his drive to jump into launching his photography business. 
Charles Christian and Ben Wratten, Co-Founders of Edtech Connect, painted a stark picture of the current skills gap found in both schools and industry. Using a peer connected network, their company looks to bridge the divide between educators and industry experts in order to foster the talent pipeline of the future. 
Two businesses who took part in the programme unfortunately could not present on the evening who were:
Steve Queripel of S.P.S. Cleaning, who has been running his successful window cleaning business for a number of years. Steve took part in the accelerator to look to grow his business in a smart and scalable way. 
Elizabeth Hutchinson, who is an Independent Advisor and Trainer helping schools realise the true value of the school library and librarian across the curriculum. Elizabeth's took part in the accelerator to start her business with the vision of raising academic attainment and independence through collaboration between teachers and librarians.
The calibre and diversity of businesses showcased on the evening was a real testament to the hard work and dedication shown by both the entrepreneurs and the fantastic industry volunteers who supported them on their journey.  Winners of the audience vote for the business of the evening was awarded to EdTech Connect. We look forward to watching where they go next and will be keeping a close eye on all the new businesses launched!
Contact details for the companies are listed above, but should you wish to find out more, please email info@digitalgreenhouse.gg