Shaping the Future with Data, Evidence, and Action
Frontier Economics talk about how data is shaping the future - Scroll down to watch the event in full
At the top of Data Driven Guernsey Week we welcomed the public into the Digital Greenhouse space for the breakfast introductory event, 'Shaping the Future with Data, Evidence, and Action' This event was opened by Deputy Sasha Kazantseva-Miller, Economic Development lead on Digital, Skills and Entrepreneurship - with an overview of the significance of data being of the utmost importance to our digital industrial age, and the need for a digitally upskilled workforce to rise to the challenge. "Data is often the most important aspect of any business."
Deputy Kazantseva-Miller stated
, before emphasising how important data is to our island from the coordination of healthcare facilities to records of the climate change on our ecosystem and marine life.
'Your future prosperity can be changed and can be influenced by the use of data, converting that into evidence, and then taking action as a result.'
Adrian Lewis, Lead Local Associate for Frontier Economics
The Shaping the Future breakfast began with Adrian Lewis, Lead Local Associate for Frontier Economics talking us through a quirky analogy about data, as he held up bags of flour and sugar up to the event's attendees. "Data comes in many forms" he announced as he also raised jars of dried milk, salt, and yeast. "within these you've got granules and grains, powders and pieces. Imagine grains and granules like data, lots of little things all over the place with different attributes. If I were to pour all of this into a bowl with water and mix it all up I would just end up with a sludgy mess, and the same goes for data" he announced, and with a flourish pulled a loaf of bread out to show the crowd. "To make it useful you need to say, 'what happens if I do certain things with it?' and look at past experiences to get the product you desire."
Adrian's analogy for Frontier Economics is that it's a bit like a recipe writer for data. Frontier Economics, an economic consultancy, specialises in analysing data for businesses, and Adrian expanded on how big decisions require data to show us our options so we can take actions and risks. In all sectors, good decisions are based on data that paints a picture. The most important thing we remember about data is not to rely fully on the information we hear and that may sway us to form our opinions. All data can be skewed if the evidence is not there to back it up, to make informed decisions we need to use experimentation and known data evidence to make and improve formulas.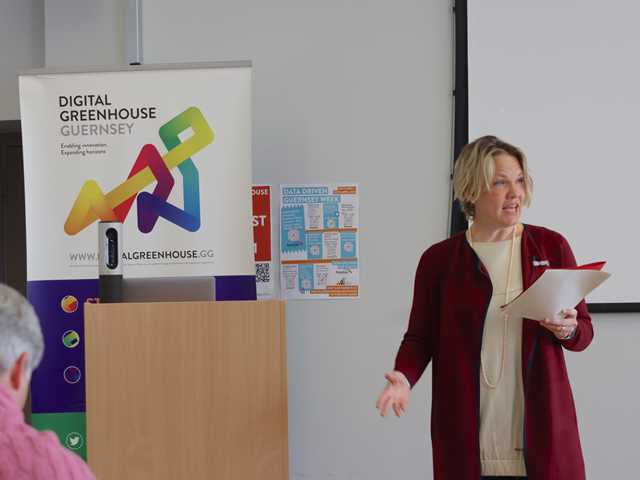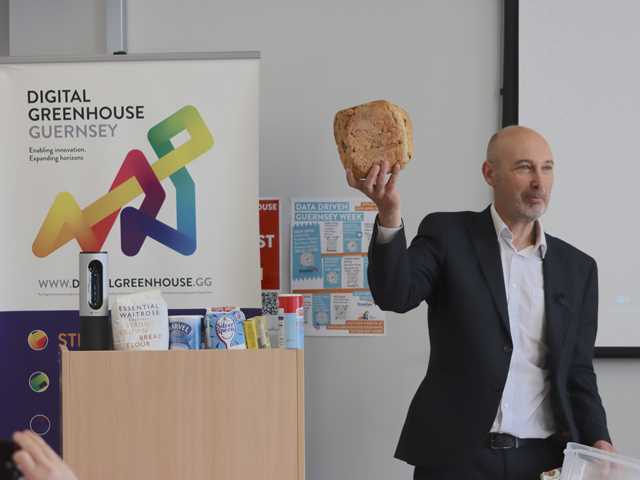 Matthew Bell OBE, Director of Public Policy at Frontier Economics and Non-Executive Director of the Energy Saving Trust took us through how data affects economics and how it is used to make decisions to try and improve the economy, with real-world examples such as the impact of COVID on the sectors and payrolls, the implementation of intelligent automation in organisations and healthcare in the last year. Forecasting its importance on streamlining data collection methods to increase output to all sectors and help the economy recover. In the last year, we also saw an increase in the willingness to share data thanks to improved trust in data handling, and with this increase in data, we see more innovation within the economy. As Matthew says, "Willingness to share data is at the center of most innovations."
Data, AI, and learning will be at the forefront of companies and government responding to the changing behaviours of the public, as is shown with the rising popularity of battling climate change. Electric cars become more attractive and affordable than conventional ones, traveling to a meeting or conference can be replaced with a video call, and eating a planet-friendly diet has become more affordable and easily sourced. All these changes are born from the data collected from the public over time, and effectively impact change within the economy.
Our key takeaway from this event is, access to data is growing at an incredible rate, and the real challenge is to use it to create credible insights and to inform the right actions.
'Willingness to share data is at the centre of most innovations.'
Matthew Bell OBE, Director of Public Policy at Frontier Economics
Watch the live stream coverage in full below