5 Stories of Local Innovation

"Together we are stronger"
#GuernseyTogether
Innovation requires the ability to adapt in times of change.  The picture of the COVID-19 pandemic is constantly moving, presenting a variety of challenges both locally and globally.  It has never been more important to stay motivated, employ your problem solving techniques and collaborate with others in the community to overcome adversity. 
Here are five innovative local projects that are doing just that:
1.  Community production of PPE lead by PwC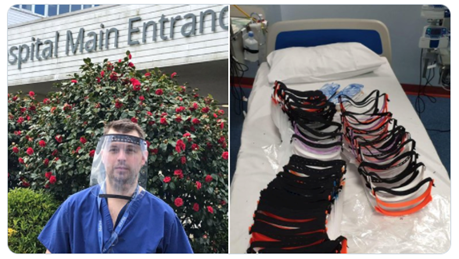 Guernsey Community 3D Print is an online Facebook community set-up to manage the community project to build and supply PPE to local frontline services.  It is a huge collaborative effort involving many local businesses, government and community members, headed up by one of PwC's Channel Island Partners, Nick Vermeulen.  PwC initially approached the States of Guernsey to see how they could help with COVID-19 and using their experience in innovation and technology they volunteered their services to spear-head the PPE project. 
Want to find out more about the process and project logistics?
Join us and PwC for an Innovation Lab webinar 2-part series on 12th & 19th May.
The group has produced about 2,000 3D printed headbands, which have been turned into full face visors and distributed to the hospital, care homes, police, doctors, pharmacies and other places of need.  As well as our Corporate Members PwC Channel Islands, some of our other members have been key collaborators, including Sure, 1st Central Guernsey and EaseeDo, and, of course, The States of Guernsey are also playing their part.  Deputy Heidi Soulsby, President of the Committee for Health & Social Care, said:
"This is what #GuernseyTogether is all about. Face visors are a critical item to help keep our front-line staff as safe as possible but there is a global shortage so we were struggling to resource our needs through the normal supply chain. 
There are a lot of people behind this work and far too many for me to thank here individually, but this is such an amazing example of businesses, the community and the States working in partnership." 
Quote from Bailiwick Express - you can read their article here.


2. Channel Island Seaweed Hand Sanitiser 


This is a great case study of collaboration between local businesses.  Guernsey Seaweed and The Channel Island Liquor Co. joined forces to combat the shortage of hand sanitiser on island.  They have worked closely with the States ofGuernsey to make sure that the product is government approved and authorised for manufacturing.  Another local company Sticker Hut has been involved in label printing.  Initially they made 400 litres to supply to St John Ambulance Guernsey, who distributed the supply to the community, including care homes and essential workers, and now it is available for the general public to buy.   
3.  Online wellbeing hub - Welcome Home Eh!

Welcome Home eh! is an online community wellbeing hub where Guernsey residents can access information on local events and activities that you can participate in from the comfort of your own home.  Most of the people involved in this project are in the service industry, meaning their businesses have been greatly affected by the lockdown and social distancing measures.  Using problem solving skills, community connections and collaboration, the team have developed an innovative solution to enable them to continue to deliver their services and support each other and the local community.  Whilst this project isn't just about one person, Dan White's honest LinkedIn post summarises the beginning of the journey and provides inspiration to all. 
4.  Penelope Hope encouraging creativity during lockdown

Creative Crusade is a Facebook group set up by Penelope Hope, encouraging children and adults to get creative during lockdown.  Nadia from Penelope Hope would normally be holding regular workshops to teach crafts using her bespoke fabrics, as well as selling products from her studio.  But when she realised that these would be put on hold for a while she decided to set-up this initiative to continue sharing her knowledge and passion. With over 300+ members, Nadia shares tutorials and live 'how to' videos as well as selling make-your-own kits to her online community.  Her latest products include lockdown survival kits and make your own Liberation bunting.
5.  DLM Architects designing remote working ShedQuarters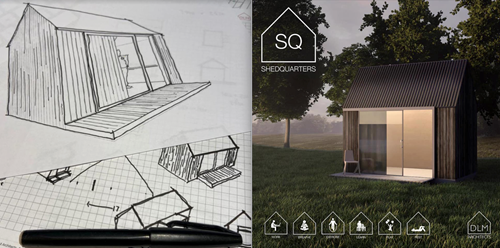 The team at DLM Architects are designing a flexible remote workspace to fit in your garden.  Spotting the issues with having a whole family home for nearly the entire working day, they sort to solve the problem using their architectural expertise.  They also asked for feedback from the community via their social media channels to make sure they were considering people's needs at this time. And the ShedQuarters is what they came up with.

"An affordable and flexible space that can be used for working from home, home schooling, somewhere to escape, to workout, or whatever you need it to be.  The pod is exempt from planning and building license permission, easily transportable and lifted straight into your garden."
Feeling inspired?  Take action!
For the intrapreneurs:

Join our Innovation Lab interactive 2-part webinar series with PwC to learn more about innovating in a crisis and how we can apply this mindset to overcome adversity. 
Innovation Lab with PwC series Part 1  
INNOVATION IN ADVERSITY
Tuesday 12 May,  14:00 - 14:45
Innovation Lab with PwC series Part 2 
RECOVERY, DEVELOPMENT, GROWTH
Tuesday 19 May, 14:00 - 14:45

For the entrepreneurs: 

Do you have a great business idea but you're not sure where to start?  Visit our Startup Hub website and take a look at our article
First Steps to Starting a Business
.
If you know of a local business or community group doing innovative things at this time please let use know by emailing: info@digitalgreenhouse.gg