Case Study: Guernsey Post delivers innovation
Learn about the impact of exploring new ideas and how employees have been essential to the innovation from CEO Boley Smillie

Guernsey Post's Chief Executive, Boley Smillie presenting at the Innovation Lab
Guernsey Post Limited is a commercial utility providing postal services for the Bailiwick of Guernsey, as well as financial and foreign exchange services, and a Philatelic Bureau which regularly issues both definitive and commemorative stamps.  Founded in 1969, the organisation has had to continuously evolve to keep up with technological developments and digital substitution which have had a substantial impact on their traditional mail services.  Unlike Guernsey Post, more than 80% of post offices are loss making or subsidised by government and globally mail has declined by an average of 7% a year for the last 10 years.  Whilst most are fighting to reverse the trend, Guernsey Post's Chief Executive, Boley Smillie says that they are looking for opportunities to embrace digital and diversify their commercial offering.  
SETTING THE SCENE
What could possibly be so difficult about delivering letters and parcels?  Well the last decade for Guernsey Post has been anything but an easy ride.  In 2010 the company recorded a loss of £1m and was faced with the new and daunting prospect of competition in the growing parcels market.  That's only the start of the story because two years later the UK Government would abolish LVCR and Guernsey Post lost 8 out of its top 10 bulk mail customers.  That event alone resulted in an eye watering £19m drop in revenue, which was almost 40% of the company's business.  And if that is still not enough, in the years that followed the company had to deal with an annual 5% decline in its core volume thanks to digital substitution, and a pension deficit which represented a very real threat to its sustainability.  Guernsey Post needed to reinvent itself and to continuing doing so just to survive.  
IT TAKES A CRISIS TO GALVANISE PEOPLE
When Guernsey Post was at a crunch point in 2012, Boley Smillie found that people were knocking on his door with ideas and suggestions of how processes could be improved and how the organisation could move forward.  The staff rallied together, wanting to help and keen to protect the jobs they loved.  Seeing the opportunity for positive change ahead of them, Guernsey Post built a £3-4 million savings programme around these ideas that saw the company move into profit a year later.  Once on the other side, it lead Boley to ask: 
"Why is it that people just come up with these ideas in a crisis?"
He quickly concluded that people come up with these ideas all of the time, but maybe they don't have an opportunity to put them forward or they are not prioritised.  It was time to change that!  Boley and his team now consider ideas as company assets, and have worked hard to make employees to feel comfortable putting ideas forward and supporting them when they do.
Boley Smillie champions the role Guernsey Post employees play in generating good ideas and driving innovation in the business.
–
GETTING TO THE ROUTE OF THINGS
Innovative ideas are most needed when there is a big problem to be solved and as instances of digital substitution increases more problems arise.  One such problem, the increasing number of parcels being delivered as the online shopping market continues to grow. Guernsey Post are currently handling over 10,000 small packages and parcels a day, the equivalent volume of 6 shopping trolleys full of parcels for each delivery route.  
Question: How do you fit 6 shopping trolleys worth of parcels on a push bike?  
Answer: You can't, at least not safely!   
So in 2014, Guernsey Post decided to replace their bicycles in favour of a fleet of diesel vans to keep up with the trend.  This decision was not popular, but the crucial stakeholders to win over were the postal delivery teams.  Part of the project transition involved combining the separate letter and parcel routes into single delivery routes, so a member of staff suggested that the teams of postal staff should plan their own delivery routes – after all they are the experts in the field.  As standard, most postal delivery services use sophisticated route planning technology to work out the most efficient routes, but these hadn't had much success in Guernsey in the past. The route planning was a huge success, demonstrating efficiencies and lowering mileage by 15%.  But equally as important, the postal delivery staff had embraced the challenge, empowered by the responsibility and trust given to them. 
YOUR MISSION, SHOULD YOU CHOOSE TO ACCEPT IT...
In order to develop a culture of innovation, Boley has an open door policy to encourage employees to challenge the status quo and present new ideas.  So when one member of staff came to his office and asked why they weren't investing in electric vehicles, it was a question that led to a much bigger challenge – Can environmental benefits and money saving projects work together?  
The answer was 'yes' and the e-vehicle project began in 2016 with an estimated return on investment over 5 years.  Both maintenance and running costs are now 35% lower than that of the fossil fuel alternatives and the positive impact on the environment is significant.  To put this into perspective, the benefit of an electric vehicle fleet rather than diesel means that they will avoid producing more than 150 tons of carbon a year.  Now in 2019, Guernsey Post have completed the transition to a fully electric delivery fleet and Boley is very proud of the project and the team responsible for implementing it. 
"It is probably the best initiative I've ever been involved in with the company. This is for two reasons, firstly, it's delivered so many benefits to the company.  And secondly, it has been immensely satisfying to see some really passionate people in the business make this project happen and in doing so overcome a few hurdles along the way." 
These hurdles included discontinuing the vehicle model which they had based their cost projections on, a problem solved by a clever idea from a member of the team. 
WORKING ON SUNSHINE
Boley wasn't wrong back in 2012 when he realised that employees were always coming up with new ideas, and this time a member of staff suggested installing a solar array on the roof of Guernsey Post to reduce their electricity costs.  A short investigation showed that with the current cost of solar panels they wouldn't be able to make a return on investment, but with their new priority of environmental benefits they were keen to develop a solution. Looking locally for inspiration, Guernsey Electricity (GE) had just installed a solar array at their powerstation and Boley wondered if there was a possibility to collaborate with them to make the project mutually beneficial. 
"We've done what I consider to be quite an innovative deal with Guernsey Electricity…"  
Guernsey Electricity have installed 654 panels on the roof of the postal headquarters to create the largest solar array in the Channel Islands, and the initiative is helping Guernsey Post achieve their ambition for the use of renewable energy.  Boley can say with confidence that the environmental objectives have been achieved as the solar array generates more electricity than they use to power their e-vehicles.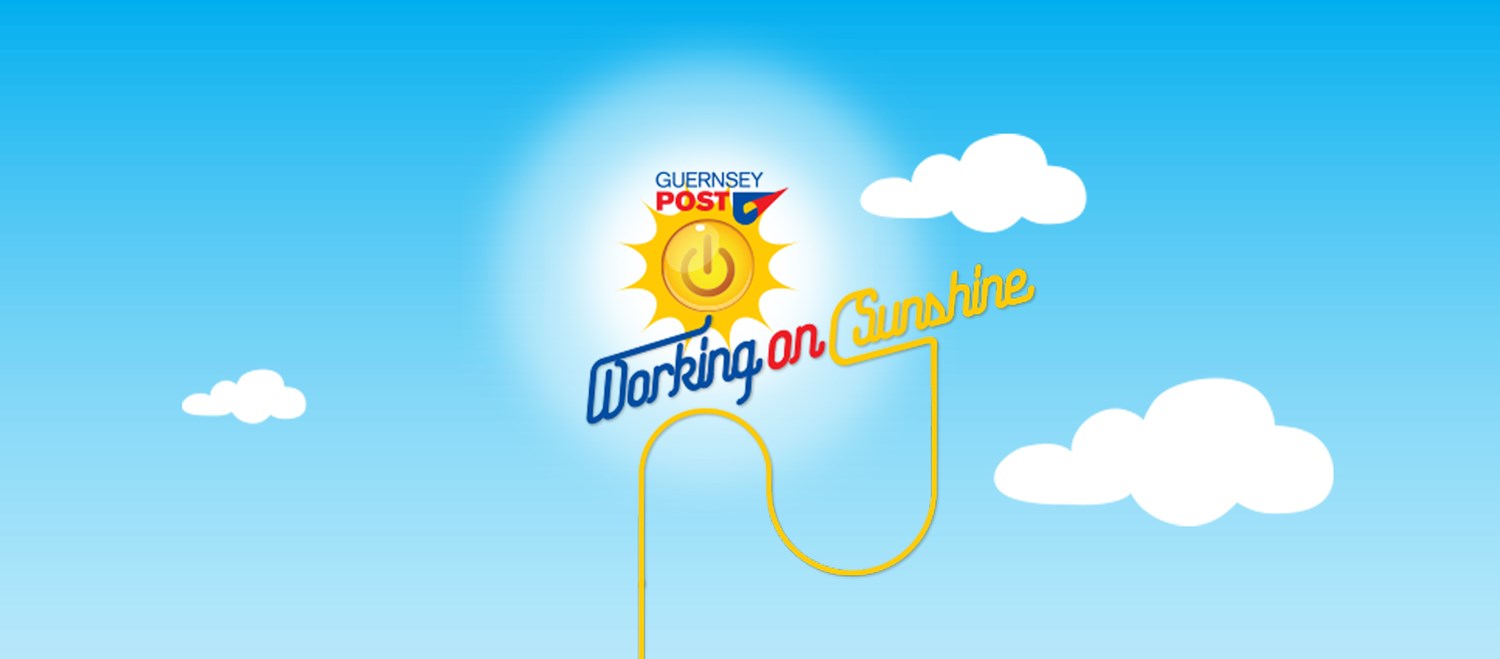 THE JOURNEY CONTINUES
The environmental programme, which started with an employee's challenging question, has led to a chain reaction of positive impact for the company that sees them at the top of their class for environmental benefits, winning the UK Motor Transport Award for Low Carbon Initiative in 2019. The judges commented:
"Guernsey Post's transformative project is an extremely bold and innovative solution to reduce emissions. It has been superbly executed project that took staff and customers with it on its journey."  
Boley and his team continue to explore opportunities to improve, in fact whilst at the awards ceremony, they saw a commercial opportunity to collaborate with a fellow nominee to diversify Guernsey Post's business offering.  This project is just getting underway and will be launched soon.
"Thank you to the Postie for asking 'Why… ?' He was right to challenge me and that one question has had a huge impact on our business"
Boley Smillie, Chief Executive of Guernsey Post
IMPACT DRIVEN
This mission to include environmental benefits has now become a priority for Guernsey Post and serves as proof that their culture of innovation has had a really positive impact on the business.  Whilst measuring Key Performance Indicators (KPIs) for innovation can be difficult, case-studies like these offer a compelling argument for developing a culture of innovation and continuous improvement within your organisation. 
If you would like support on your innovation journey you can come along to one of the Digital Greenhouse's free Innovation Lab events where you will find interesting talks, practical workshops and a group of like-minded people to swap notes with.  Visit our events calendar to see what's coming up.
Want more?
Guernsey Post has achieved

Investors in People

(IIP) Gold Standard Accreditation which recognises their commitment to their employees. 

Guernsey Post are using Near Field Communication (NFC) tags to give postmen messages at customers doors, the scheme is called Safeplace Delivery.
Browse Guernsey Post

News pages

to see the quantity and diversity of initiatives being implemented, not just for the benefit of the company but for the good of the community and Island as a whole. 

Did you know that we have an e-newsletter dedicated to innovation? Sign-up to receive Innovation Network news, including case-studies, tools and methods, and event notifications.
Sign-up to the Innovation Network newsletter
SUBSCRIBE