Collaborate & Work Out Loud
Part 1 of the 5 part series of May's Pathway on the Hive Learning Hub
Imagine being in charge of IT and innovation in a multinational engineering and technology company. You're asked to develop an incubator space to take advantage of developments in the Internet of Things space. But you don't have access to the authorities or startups. What do you do?
This was exactly the situation that Dennis Böcker at Bosch found himself in. He used Working Out Loud to build relationships and make his goal part of a peer support group. The group was able to pool their knowledge and collaborate. Thanks to this method the original idea grew to become the Chicago Connectory start-up incubator, thanks to a partnership between Bosch and 1871.
Have you ever heard of Working Out Loud before? 
Working Out Loud is an open and collaborative style of working. It allows people to share information and experiences. People who "Work Out Loud" build relationships through social collaboration and by making their work visible.
We've all heard of networking, but Working Out Loud relationships are different.  These relationships are based on being generous and thinking about what you have to offer other people first. Knowledge is something to be shared for everyone's benefit.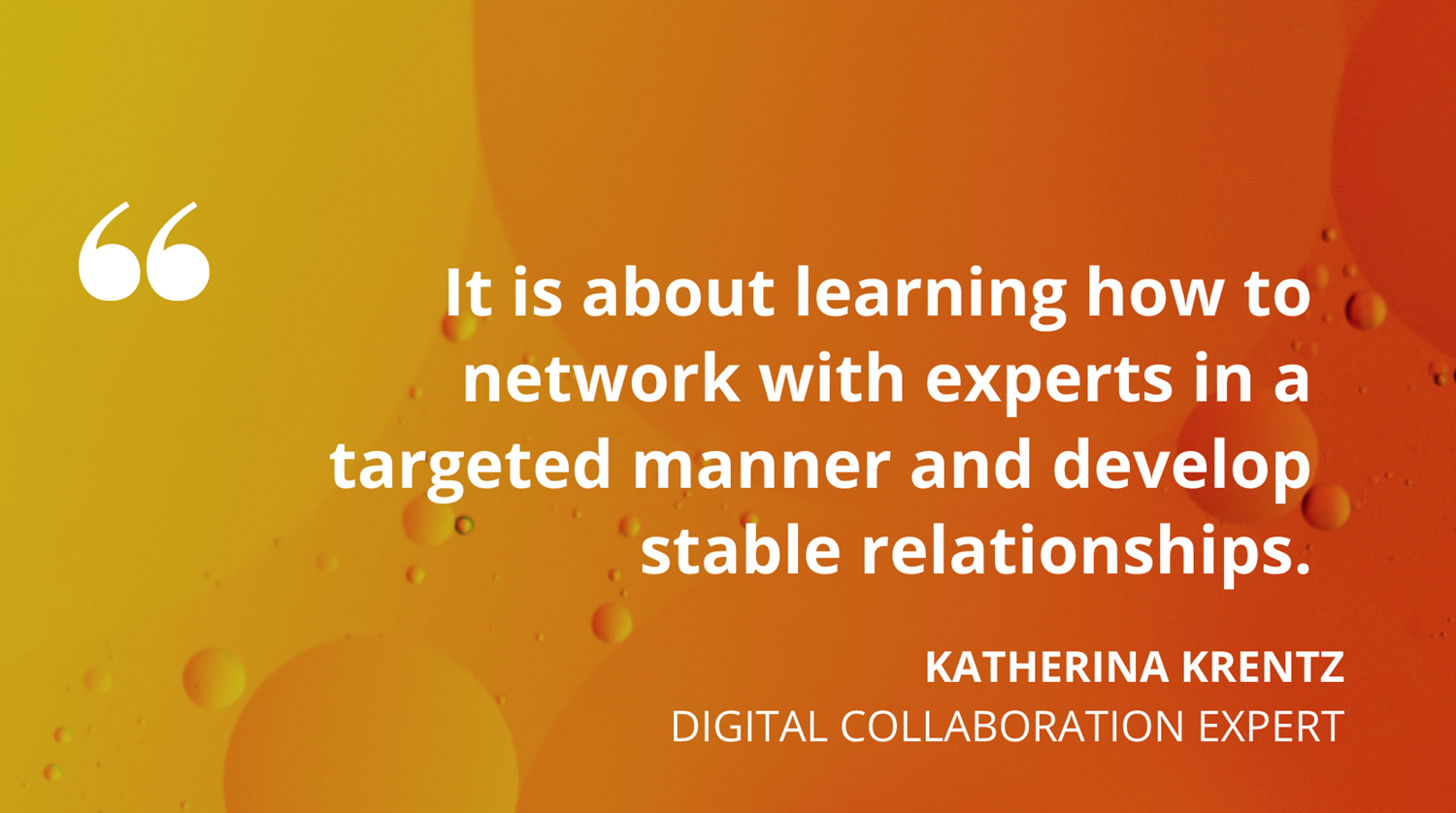 Working Out Loud was first described in 2010 by Bryce Williams and later expanded by author and speaker John Stepper. The five elements of Working Out Loud are:
Building relationships
Being generous
Making your work visible
Using goals to focus your learning
Having a growth mindset
📺 In this short video John Stepper walks us through the basics of Working Out Loud.
Working Out Loud has been used at top organisations including BMW, DHL, Swisscom, and UniCredit Bank. In this pathway we'll be focusing on the first three elements of Working Out Loud; building relationships based on generosity and making your work visible in your organisation.
Your expertise and skills are an asset begging to be shared. Sharing knowledge empowers others to share ideas and information. It stops people feeling isolated. Problems are solved quicker because more people have the know-how. What better way to do this than narrating your own work?
Talking about your work will also invite others to join the conversation. You might learn something new. Be open to having your ideas challenged.
This isn't about losing the X-factor that makes you special to your employer, but making you and your teams stronger, more informed and more collaborative. Studies have found that 80% of workers say they're frustrated about not being able to access a former colleague's institutional knowledge. Working Out Loud can change that.
Want to find out more? 
Join us for the Innovation Lab on Friday 28th May, 12-1pm at the Digital Greenhouse. 
This workshop is a great opportunity to find out more about Working Out Loud, creating circles and meeting other like-minded professionals to support your learning and share experiences. 

You can continue your learning with cards 2 - 5 on the Learning Hub on Hive. 
Here's what you will learn:
How to create and nurture generous relationships
How to make your work visible to others
How to share your knowledge with others
HIVE Learning Hub

Join Guernsey's online learning network Find out more