Introducing you to coaching skills
Welcome to our Coaching Summer Series
The first instalment is an introduction to Coaching Skills.  
Here is part 1 of 6 cards in the pathway on the Hive Learning Hub.




Do you or does your company currently do any coaching?
Coaching is incredibly valuable - and businesses know this.  According to Google one of the top traits of great managers is that they are also a good coach.  Coaches drive employee engagement, helping people to identify their goals and purpose.
Coaching benefits people at any level in their career.  According to a study from the 2016 ICF Global Coaching Study, both managers and lower-level leaders benefit from coaching.
Have you thought about whether you need coaching in your team?  Try asking yourself these questions:
Do your people come to you with problems and you give solutions right away?

Do your team members leave your one-to-one meetings feeling unmotivated and unclear about what they need to do to perform better?

Are you unsure what goals your team want to achieve, or how to help them reach their goals?

Do you sometimes find your team members get stuck in a problem and you're not sure how to get them out of it?
If you answered yes to most of these, then it sounds like you need to inject a culture of coaching into your workspace.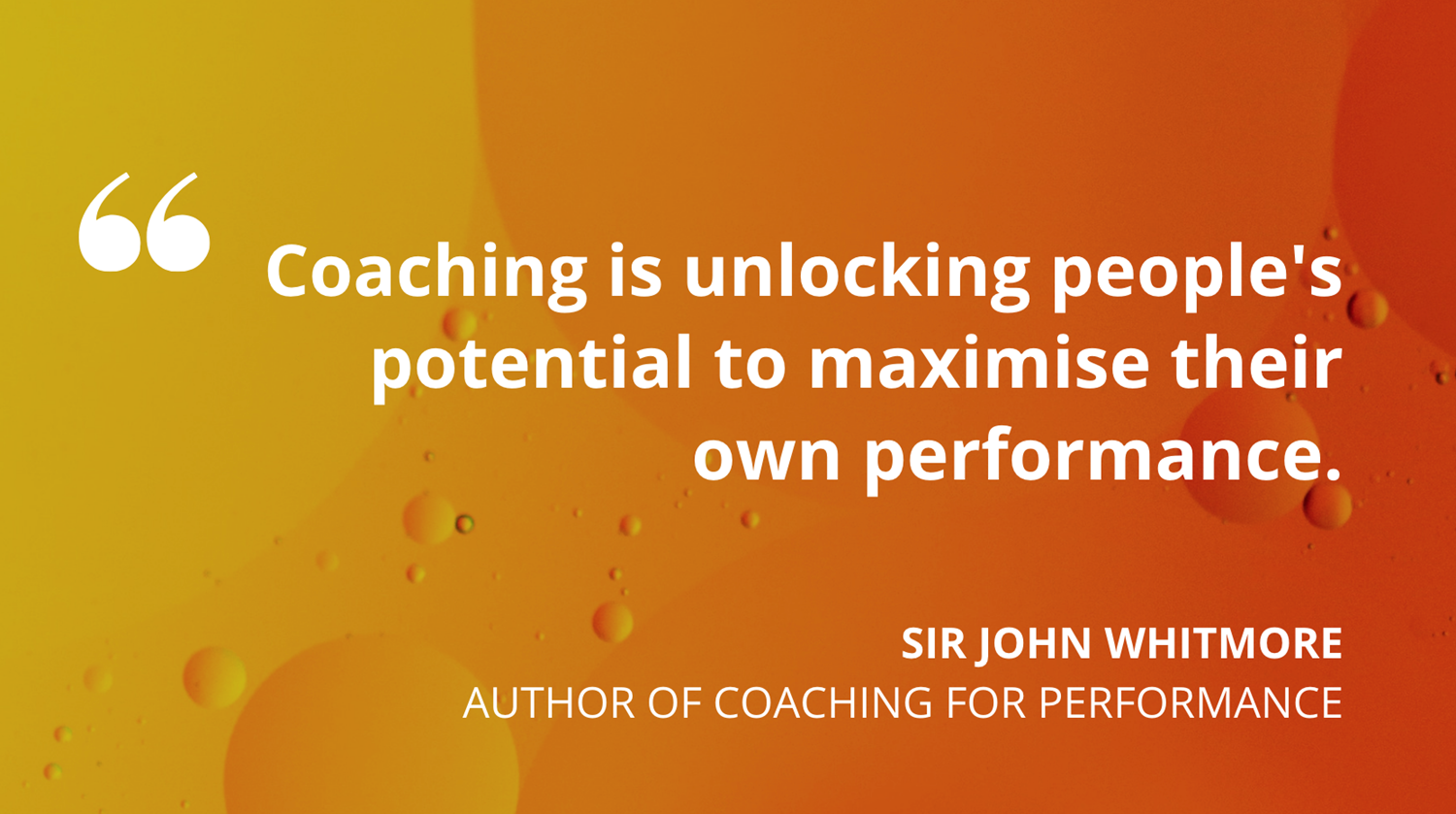 Source; Hive Learning Hub
What is coaching?
Coaching builds talent and drives independent learning.  Coaching sessions will help you unlock your team member's goals and empower them to achieve their ambitions.
The word "coaching" is often used interchangeably with "training", but they are quite different. 
Training:
Is delivered in a classroom setting in a short time frame.
Teaches someone new knowledge or skills.
Coaching:
Empowers a team to identify their goals.  They're challenged to learn new behaviours and achieve their goals.
The person being coached is fully accountable, learning independently.
🚨 Another common mistake is confusing a coach with a mentor.  Mentors are experienced people passing down their knowledge and advice.  They guide people down a specific path while coaches empower people to find their own way.
The power of coaching
People aren't just motivated by money-in fact it's a surprisingly poor motivator. 
💪 Coaching unlocks goals (both personal and professional) giving people a purpose in their work.
💪 Coaching also encourages self-belief, which is incredibly empowering.  It gives people the confidence to make their own choices and decisions.  It also gives you confidence in your team's ability. It means you don't have to keep looking over their shoulders, which is a win for you!
The coaching style of leadership, listening and being curious is appropriate for today's managers.  Instead of a command and control approach coaching characteristics include:
✅ Support.
✅ Empathy.
✅ Guiding people to find their own answers, rather than providing them.
✅ Humility.
As a leader, it is your job to develop people - embrace it and enjoy it!
What makes a good coach?
As with anything else, there are good coaches and bad coaches.  Being a good coach is an important part of anyone's career.  There are lots of habits that good coaches have including:
✅ Being able to listen
✅ Asking open-ended questions
✅ Self-awareness of their coaching style
✅ Prepare structured 121s
✅ Sets clear expectations
✅ Gives great feedback
We could go on forever, but a good coach is vital to the development of a person's career.  It will also make you a more relevant manager in today's digital world.
A culture of coaching
Companies need to move away from learning by telling people what to do.  After all, did you learn to walk by being told how?  No! 
Instead, coaching should be a part of your culture.  You can do this by encouraging collaboration, questioning and active listening.
Coaches are a great asset to businesses and their culture.  According to a professional resume writer  "Employers aren't looking for robots that can only execute on a job description. They need people who can positively impact the culture and see what's around the corner."  Good coaches improve the performance of those who are coaching and can help others to do the same.
When your company encourages management to provide:
regular feedback
opportunities to learn
the chance to develop new skills 
then coaching can become an ingrained part of your company culture.
🗝️ Your key takeaway
Coaching is a vital skill that provides opportunities for personal and professional growth.  This is not just teaching; as a coach you can facilitate independent learning and spark thinking in your teammates.
Want to find out more? 
Join us for the Innovation Lab in September at the Digital Greenhouse to bring all of your learning on the Coaching Summer Series together. 
These Innovation Lab workshops are a great opportunity to find out more about the subject and meet other like-minded professionals to support your learning and share experiences.  Sign-up to our newsletter to be the first to know about Innovation Lab events.

You can continue your learning with cards 2 - 6 on the Hive Learning Hub. 
Hive Learning Hub

Join Guernsey's online learning network Find out more