Leveraging technology for year round wellbeing
In this Health and Wellbeing event we were joined by Sarah Barthram, Head of Project Delivery at C5 Alliance Guernsey, and Alex Morel, who leads C5's training division, for a virtual journey around the globe - taking a look at how companies are prioritising the wellbeing of their employees.
The webinar was packed with practical ideas anyone can adopt to improve their wellbeing of themselves and their teams. With over 1 billion people in the world using Microsoft Office, the session also covered some tips and tricks to leverage the benefits of the technology you use every day. If you would like to watch this webinar in full, please scroll to the bottom of this article.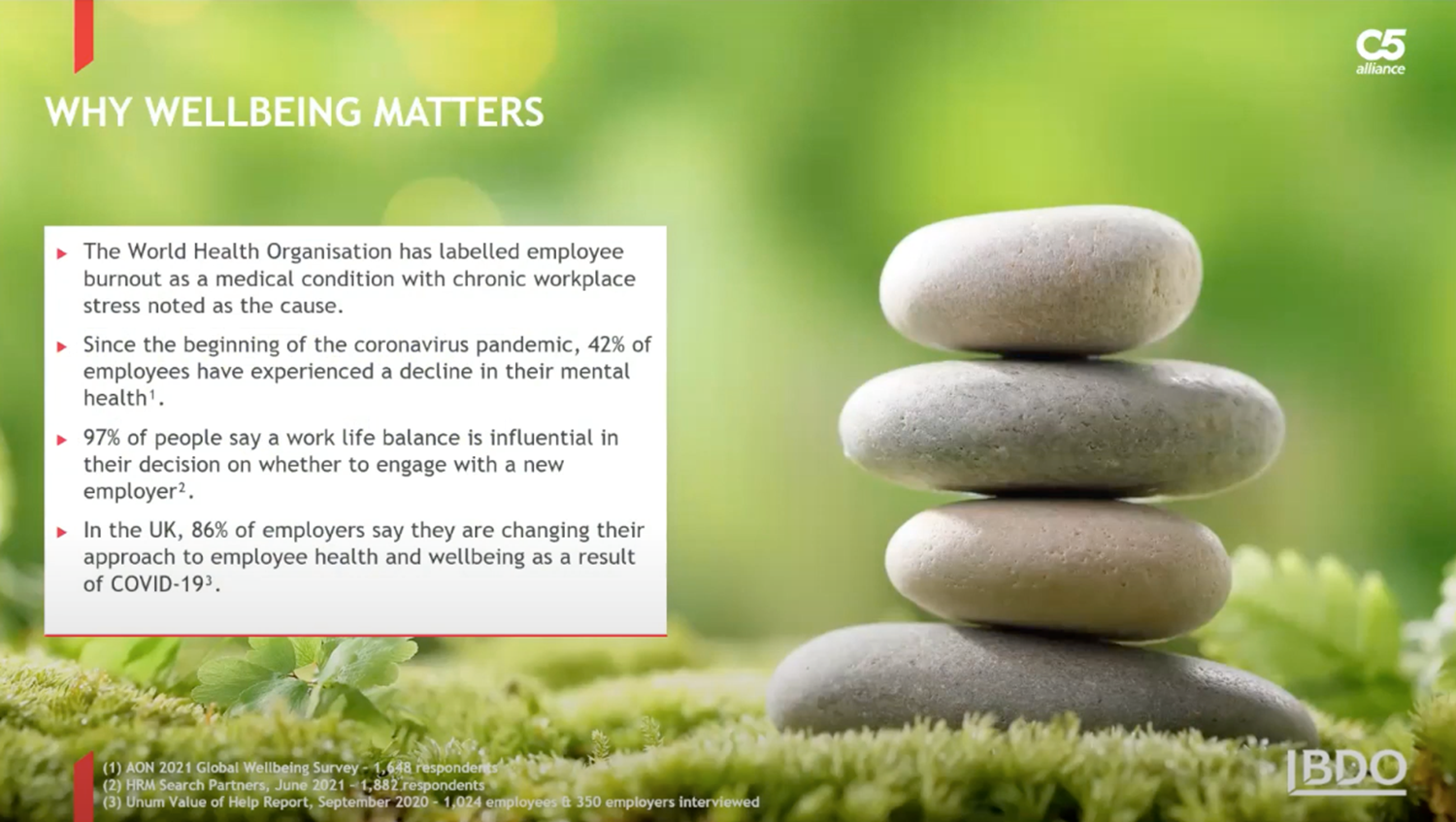 Slide from C5 Alliance's webinar 'Wellbeing 365 with C5 Alliance'
The connection between wellbeing and business performance just keeps on growing and it's beginning to look pretty conclusive; employee wellbeing has a critical impact on numerous areas of business performance. If you didn't already have a definitive health and wellbeing plan for your business before, the pandemic has made sure to highlight the need for the attention of leaders and managers alike to take a closer look at how they can take care of their employee's wellbeing year after year.
Low wellbeing results in higher levels of absence, whether physical or mental and the causes of long term absences in UK workplaces are staggering, a whopping 59% of employees are absent because of mental health issues, and 54% absent due to stress, it's also a common reason employees quit their jobs. So how does this look in the office? Workload overload, management styles and relationships at work are the top three causes of stress-related absence according to a recent CIPD survey, and with managers often not trained to handle sensitive discussions and direct employees to the right places to get help, it's not surprising that that the culture of 'presenteeism' is still on the rise.
It's time to embed well-being into your business strategy 
While it's easy to make a call to arms, what exactly can you do to bring mindfulness and awareness into your everyday actions? There's no quick and simple answer, but let us build an active conversation between leaders, managers and employees about health and mental wellbeing starting with reviewing what exactly is causing stress in your working environment. Are there too many back-to-back meetings? Are your employees working evenings and days off to catch up? Do your employees get enough exercise and support out of work hours? In many instances, some stressors don't even come from within the organisation itself. But by considering a multifaceted approach to developing a culture where wellbeing's prioritised, organisations will be better placed to make progress.



How can technology help improve well-being in my workplace?
At the heart of every successful employee wellbeing programme is a workplace culture that champions healthy eating and exercise, and it's here that technology can make a huge difference. With wellbeing technology, individuals can take positive action and control of their own health and digitally track progress. Bear in mind this isn't a quick fix for your entire workplace, rather this tech can help motivate employees and encourage them to stay on course and achieve their personal health goals.
Encourage wearable tech (where possible.) In an ideal world, our budget would stretch to gift wearable tech to everyone in our company, (You get a smartwatch, and you get a smartwatch!) Realistically we can only encourage our employees to wear devices that help them track healthy eating, exercise and sleep patterns and help gently nudge healthy habits into their working day, such as the apple stand up reminder. By simply standing and taking a short walk, around the building or even just to the coffee machine it's been proven to help avoid health problems such as chronic heart disease and diabetes. In certain workplaces, employees can get so engrossed in their work that they think nothing of sitting for hours at a time.
Introduce smartphone apps the are centred on guiding wellbeing Many health apps currently on the market are designed to help you track exercise goals and stick to healthy well-rounded diets. But some are specifically designed to help you manage stress, anxiety, depression, and other mental ill-health issues. Introducing these into your workplace can help educate employees to better manage stressors in and out of work. Here are a few wellbeing apps you can introduce to your workplace!
Get an overview of your employee's health with wellbeing platforms Combining wearables with a wellbeing platform can grant you an even greater impact, they can be used to track your success while offering some key insights into areas that need improvement. Also, wellbeing platforms make it easy to offer incentives through an employee rewards scheme and educate employees with a comprehensive library of articles and short videos.
One of the major benefits of an employee wellbeing platform is that it can lead to fewer stress-related absences. Absence management software can give you a clear overview of your business's absence data. This can help you to spot patterns, and learn to understand your employees better and the sort of things that might encourage them to opt-out of a working day. After all, the more you know about the reasons behind the absences in your workplace, the more you can do to reduce the likelihood of them happening in the future.
Watch the Health and Wellbeing Week webinar below in full to hear C5's top tips on how to leverage technology to improve your workplace and some great innovations around the world from companies revolutionising the workplace experience.