What is a Growth Mindset?
Here's a taster of the pathway: 'How to build a Growth Mindset culture' on the Hive Learning Hub this month
What are mindsets? 

Mindsets are the beliefs that determine how you view yourself and how you approach every situation in work and in life. This covers everything from your perceived intelligence and talent to your personality.

Stanford academic Carol Dweck has identified that everyone has one of two types of mindsets: a Growth Mindset and a Fixed Mindset.  The difference between these two mindsets is based around one question.  Are your abilities simply fixed traits that are carved in stone?  Or can you develop them with practice over time?

💭 Having a Growth Mindset means that you believe your talents can be developed - through hard work, good strategies, and input from others.

📺 High-performance culture expert Matthew Syed reminds us in this video that success is about change, the power of practice and the ability to learn from mistakes.
Carol Dweck has found that there is a clear correlation between Growth Mindset and high performance - it turns out that the way that we think about our abilities has a significant impact on our likelihood of success.
Fixed Mindset: the alternative to Growth Mindset
When you have a Fixed Mindset, you believe that your abilities are fixed and unchangeable. 
The Fixed Mindset is problematic for two key reasons:
When you believe you don't have the power to change your natural capabilities, then there's no point in working on your weaknesses. So you'll avoid obstacles, you won't persevere when you at first fail, and you won't put in the effort required for success. 
When you think you're an expert or super talented, you assume you have all the answers - so why would you bother trying to improve? Especially as trying something new outside of your comfort zone may reveal that you, in fact, don't know it all.
How to have a Growth Mindset as a leader
The Growth Mindset brings a wealth of positive behaviours. Leaders with a growth mindset: 
✅ Place a high value on learning.
✅ Are open to feedback and are confident in their ability to cultivate their own and others' abilities.
👍 Matthew Syed shows us that a growth mindset allows a person to see every experience as a potential learning opportunity, whether that is a success or a failure.
👍 He also shows us that the Growth Mindset gives a person and company room to constantly improve performance. 
👍 In the above video, Matthew Syed points out the importance of a company recognizing that its current ideas are not the final word, even when they are good ones.
Success is brought by practice and learning from experiences, and not by talent alone. By having a Growth Mindset as opposed to a Fixed Mindset we are able to unlock completely different kinds of behaviour.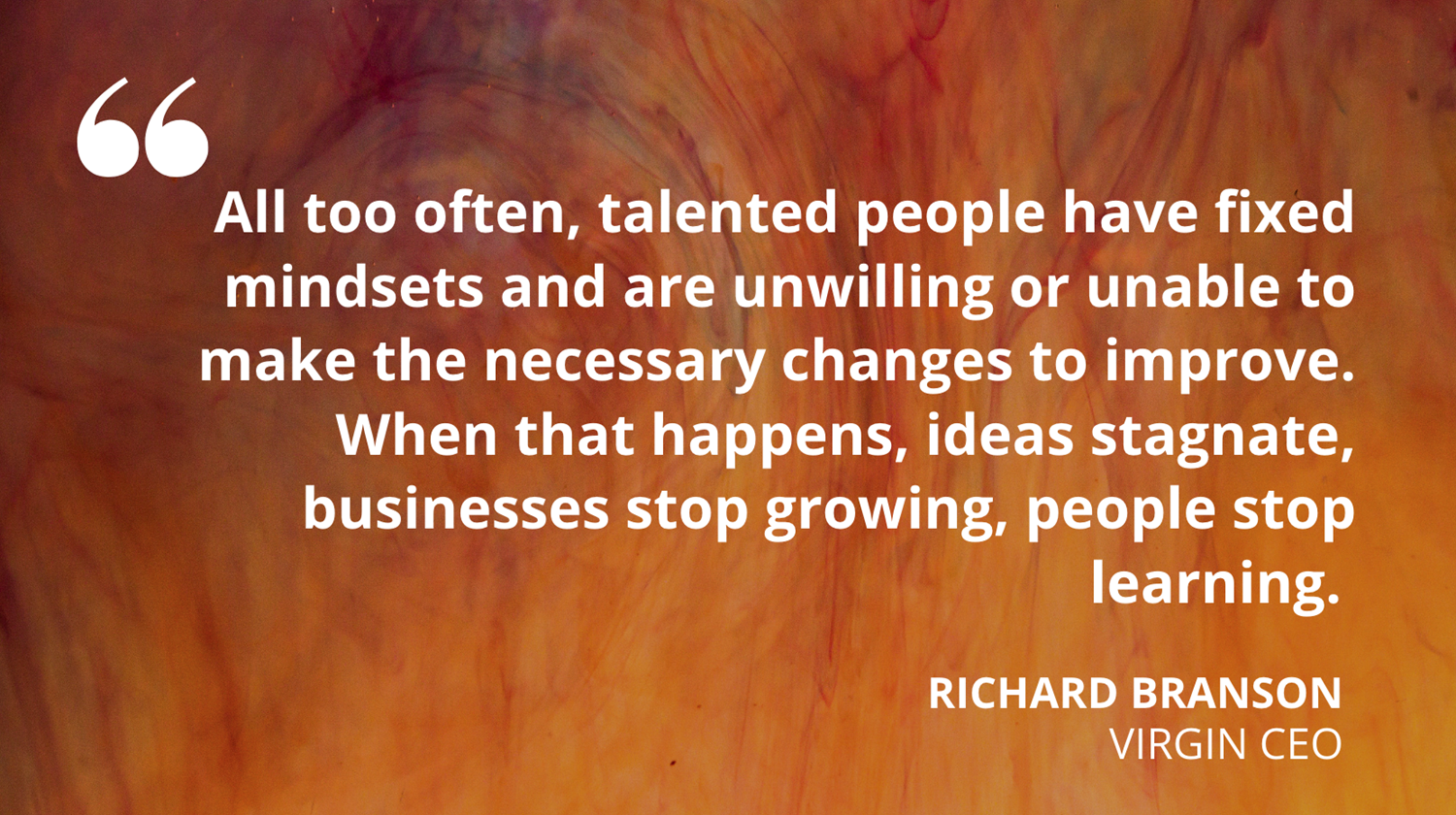 Source; Hive Learning
Adopting a growth mindset will help you create a culture of ongoing learning that motivates the best performance from your team and yourself.  
Want to find out more? 
You can continue your learning with the rest of the cards in this pathway on the Learning Hub on Hive. 
Here's what you will learn:
✔️The difference between a fixed and Growth Mindset
✔️ The power of practice
✔️ The importance of learning from experiences
✔️ Building a Growth Mindset culture in your workspace
A Growth Mindset will help you and your team learn and achieve more than ever.  It will also drive commitment and motivation, so let's get started!
Hive Learning Hub

Join Guernsey's online learning network Find out more