As part of their commitment to digital upskilling, PwC is introducing its successful technology education outreach program to Guernsey schools during the current academic year. Your child could be one of the first to try this fun and lively way to learn about algorithms, debugging and cyber safety in this special one-day half term club for children aged 8 to 11 years.
The day will be run by experienced staff from PwC and Digital Greenhouse. Water and snacks will be provided, and children should bring a packed lunch. Participants will need to bring a fully-charged iPad, Chromebook or laptop for their own use during the day. If you don't have one, please let us know as you could borrow one from us. Drop off from 8.45am, pick up at 3.00pm. There is no charge for participating in Hive Hack Mini.
This event will have the same activities as the Hive Hack Mini in August so please do not book tickets if your child took part in the summer. C

onsent forms for this event will be sent separately
With an estimated 30% of jobs in the Channel Islands likely to be automated by 2035, there is a pressing need for organisations and education to work together to prepare young people for the jobs of the future. PwC's Hive Hackers program is designed to help this next generation develop strong digital literacy to improve their employability and inspire them to pursue further study and careers in technology. Whilst technology is the primary focus, the Hive Hackers program also offers children opportunities to be creative, solve problems, and develop communication and collaboration skills.
Come and join the fun!
Event organiser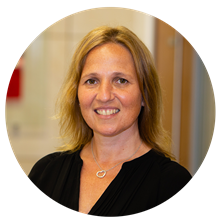 Susan Parker recently joined PwC to develop and deliver an extensive digital upskilling program across the Channel Islands. Susan is a qualified teacher with 15 years' local teaching experience and an MA in Education and Professional Studies from King's College London. 
Susan has a strong community spirit, having been Secretary of the French Section of the Jersey Eistedfodd and Chair of the Board of Visitors for Children's Residential Services in Jersey, and she is currently Fundraising Manager for the St Lawrence Battle of Flowers Committee. Although based in Jersey, Susan is very much looking forward to regularly visiting Guernsey to engage with schools and colleges to help with their digital curriculum.
Susan will plan and create the resources for Hive Hack Mini, but due to existing travel restrictions the day will be run by Guernsey-based PwC staff:
Sarah Hollingsworth, Learning and Development Manager
Isabelle Mariess, Recruitment Administrator