At February's Innovation Lab we welcome Janine Mayor, Investors in People Consultant at the GTA University Centre, whose talk will focus on the benefits of putting people at the centre of your performance strategy. 
What makes high performing organisations different?  Are you making an impact and engaging with your teams?  How do you invest in and develop your people? In this session we will bring together knowledge and experience that we have gained from working with high performing organisations.  We will highlight what made them successful and what has helped them make the leap to invest in their people, plus, provide practical examples that will assist you to "stay human" in the workplace. 
Working with people brings everyday challenges and we often think "our way" is the right way.  However, we can learn from others and strive to make the difference in life.  It is easy to get caught up on the treadmill of work-life, yet the question is - do you stand back and reflect on what else you could do to improve? 
Speaker Profile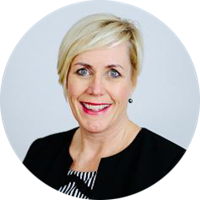 Janine has 20 years' experience in "People Development". As well as being an ambassador for change and continuous improvement, Janine is extremely focused on making a difference with people and has led numerous businesses to achieve the Investors in People accreditation. Janine works both sides of the fence, as a customer of Investors in People and as a consultant, guiding and supporting businesses to utilize the Investors in People framework to strive for excellence. This has provided great learning opportunities and exposure for others, enabling her to build on her experience and share this learning with others.
Janine developed her career in Learning and Development with Thomas Cook. Janine headed up the Learning and Development team in their specialist Tour Operator division. Janine has achieving numerous awards for excellence in training over the years and has worked across various sectors since moving back to Guernsey. Her specialism is driving change and motivating others to reach their potential by focussing on "what does good look like? 
Innovation Lab 2020 series:
Growing a culture of continuous improvement
Returning for 2020, Guernsey's monthly Innovation Lab aims to help you gain greater knowledge and understanding of innovative working practices.  This years programme will once again showcase some of the best in innovation from across the island and include hands on introductions to a range of subjects, such as project management, business analysis, change and transformation.  Build and develop new skill sets for the changing business world and, through partnership with the GTA, take it further by signing up for one of the professional qualification routes too.
Join us for the last Friday of the month for an engaging range of presentations and workshops, building a network of like-minded people to discuss ideas and encouraging collaboration across business, government and the community. Subscribe to the Innovation Network e-newsletter for monthly updates on our activities, events and more.