The Power of Partnerships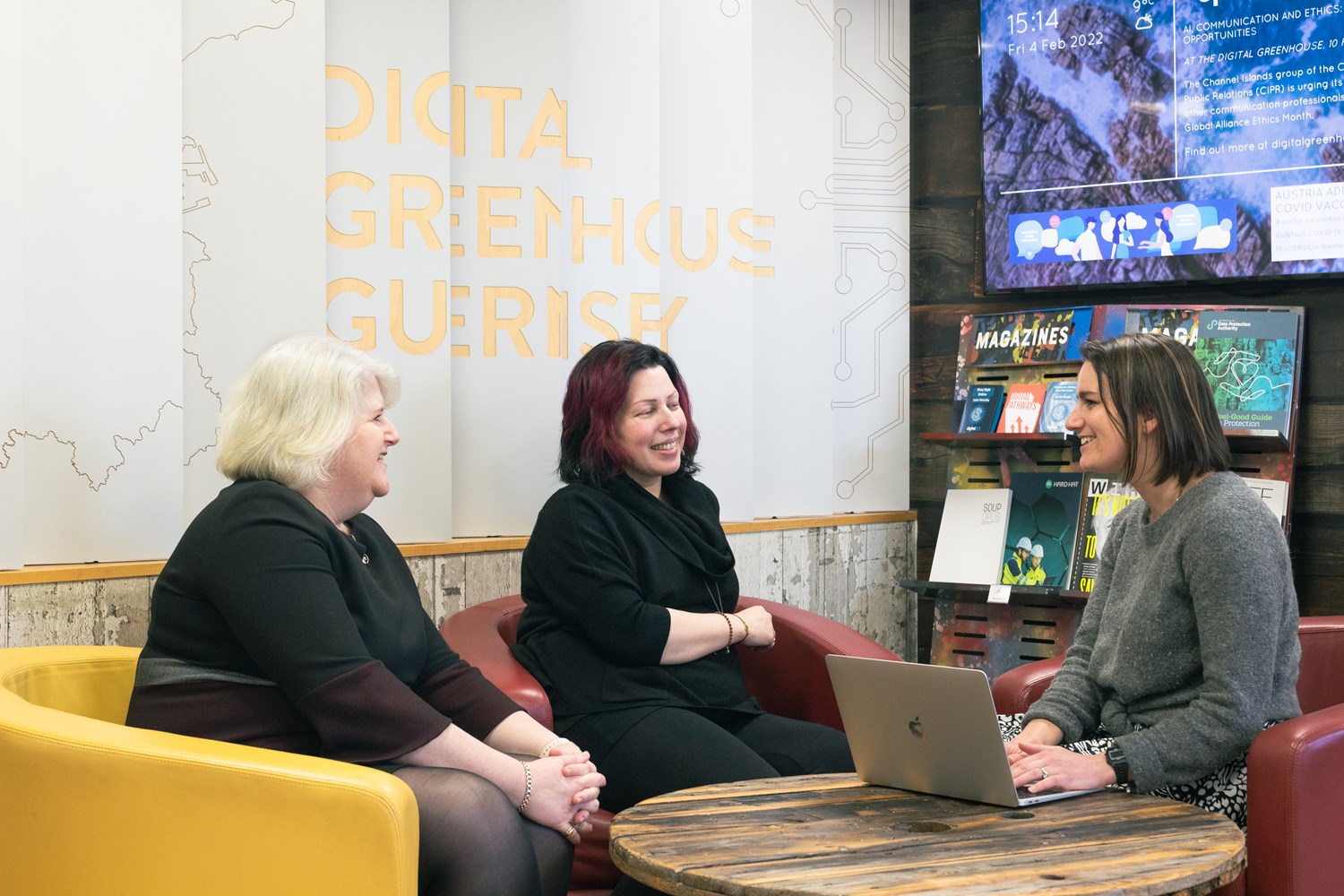 Jenny De La Mare, Development Officer at the Digital Greenhouse discusses collaboration, future plans and female leadership with Director Lucy Kirby and Jo Stoddart, Director of Locate Guernsey. 
This month sees Locate Guernsey move to join the Digital Greenhouse, with exciting times ahead.  The teams have been collaborating on a number of projects over the past two years, but this co-working environment will accelerate their development.  Their young and ambitious teams will be able to connect, allowing them to think about how they can use all of the team's expertise across programmes.  Developing that golden thread between people coming into the island and connecting them into Guernsey's thriving ecosystem is key to strengthening on-island activity and our international reach.  
As women in leadership positions, Jo and Lucy find their roles rewarding in a number of ways:  
"For me, being a woman in an often male-dominated field can be challenging but being able to role-model that gender, age or background aren't important, instead it is the ability to empathise and create collaborations and partnerships that are." says Lucy.  
"I agree with Lucy, on the importance of empathy.  Being able to draw from my own experience to relate to our customers and provide a better service is really rewarding.  One of the things people don't realise about relocating is that it can be a very challenging time, not just as a working professional but from the perspective of a mother and a wife, but I have been there and understand." Jo adds.  
There is often a perception that people starting new businesses or entrepreneurs relocating to Guernsey are male, but with a growing number of womenpreneurs and relocators, a different range of support requirements need to be considered.  As female leaders, Jo and Lucy strive to develop programmes that are inclusive and focused on the customer's context to make them as accessible as possible.  With circumstances such as family care, working remotely or for a global team becoming more common, gone are the days where services can be planned around a 9-5 working day.  Their recommendations?  We must be more flexible and inclusive.  And it is those kinds of considerations that will allow more women the opportunity to return to the workplace.   
Striking the ever championed 'work/life balance' seems to be something particularly challenging to achieve for busy professionals.  As women leaders, Jo and Lucy feel it is important to challenge the traditional responsibilities at home, as well as roles in the workplace, in order to achieve more equality and balance.  They have both experienced the pressures that come with taking on responsibilities for a household, so they recognise the need to have conversations about roles and responsibilities outside of work too.  
Alongside changes individuals can make, both believe that diversity at leadership level is a key way to enable greater female participation in the workforce.  We must have good legislation and internal policies to support people in work, no matter their home situation, so that businesses are seen to lead by example.  This is particularly important as we face an ageing demographic where we may see an increase in people caring for elderly family members, something which may disproportionately fall to female members of staff.  
Empowering people to work flexibly has already had a positive impact on work/life balance - a trend that has been accelerated by the pandemic.  It is hoped that this will present lots of opportunities for women to return to work with the ability to work for anyone, anytime and anywhere in the world.  
There is a promising future for female leaders - Jo and Lucy agree that they are starting to see the ripple effect from the movement toward gender parity.  With more female investors, more blended boardrooms and more startups with female founders, we will see greater investment in female-orientated technology, products and services, which will work towards addressing some of the issues that are more heavily felt by women.  So what are their top tips for aspiring future leaders?  Be proactive with your career development, have confidence in your ability and don't be afraid to get things wrong!